Lymphocyte expression of CD4+CD25hi and adhesion molecules in children with Atopic dermatitis: the effect of Levocetirizine treatment
Keywords:
Dermatitis, Treg cells, Adhesion molecules, Levocetirizine.
Abstract
There is considerable evidence that several novel H1 antihistaminespossess anti-allergic/ anti-inflammatory properties,through inhibition of leukocyte activation. Levocetirizin andother H1 antihistamines are considered central to the treatmentof atopic dermatitis (AD) associated pruritis; howeverthere is a lack of studies of possible anti-inflammatoryeffect of these drugs in children with AD. In this study, weinvestigated the lymphocyte sub-population profile in theperipheral blood of 15 children with AD at baseline and followingtwo weeks of levocetirizine treatment. The clinicalsymptoms and flow cytometric analysis of the percentageexpression of CD4+CD25+ subsets on T cells, as well as expressionof the adhesion molecules; CD4+CD54+ (ICAM-I)and CD4+CD62+ (L-Selectin) on T cells were evaluated. Thechildren exhibited a reduction in the percentages of the eosinophilcount (p<0.05) as well as major clinical symptoms,itching/ scratching (p<0.05) and the subsequent bleeding oflesions (p<0.05); however the total symptom score was notsignificantly changed. A significant increase was observed inCD4+CD25hi Treg cells while CD4+CD54+ (ICAM-I) cellswere significantly decreased, and no significant change wasobserved in other populations. Reduction of CD4+CD54+may be associated with suppression of IgE production andhence reduced mast cell recruitment into the inflammatorysites, on the other hand; expansion of CD4+CD25hi indicatesthat Treg-mediated host immune defenses are augmented.Our study suggests the potential of the anti-inflammatory effectsof levocetirizine in allergic inflammation.
Downloads
Download data is not yet available.
References
Allam, JP, Novak N. The pathophysiology of atopic eczema Clin Exp Dermatol. 2006;31(1):89-93.
Jenerowicz D, Czarnecka-Operacz M, Silny W. Selected eosinophyl proteins as a marker of inflammation in atopic dermatitis patients. Acta Dermatol Croat. 2006;14(2):73-80.
Leung DYM, Bieber T. Atopic dermatitis. The Lancet. 2003;361:151-60.
Hanifin JM, Rajka G. Diagnostic feature of atopic dernmatitis. Acta Dermatovenerologica. 1980;114 (Suppl 114):87-92.
Jenerowic D, Czarnecka –Operatcz Msilnv W. Selected eosinophil protein asa marker of inflammation in atopic deramatitis patients. Acta Dermattovenerol Croat. 2006;14:(2):73-80.
Shimada Y, Hasegava M, Kaburagi Y, Hamagushi Y, at al. L selectin or ICAM1 deficiency reduce an immediate type hypersensitivity response by preventing mast cells recruitment in repeated elicitation of contact hypersensitivity. J Immunol. 2003; 15;170(8):4325-34.
Lurzius-Spencer M, Halone M, Lohman IC, Martinez FD, Wright AL. Prenatal factors associated with the development of eczema in the first year of life. Ped Allergy and Immunol. 2005;16:19-26.
Henino A, Vocanson M,Toussaint Y, Rodet K et al. Skin infiltrating CD8+T cells initiate Atopic Dermatitis lesion. J Immunol. 2007;178(9):5571-7.
Shi H-Z Qin X-J. CD4+CD25+regulatory T lymfocites in allergy and asthma. Allergy. 2005;60:986-95.
Shwarz RH. Natural regulatory T cels and self tolerance. Nat Immunol. 2005;6:327-30.
Umetsu DT, Akbary O, De Kruy. RH. Regulatory T cells control development of allergic diseases and asthma. JACI. 2003;112:480-7.
Ling EM, Smith T, Nguyen XD, Pridgeon C, Dallman M, Arbery J, et al. Relation of CD4CD25 regulatory T-cell suppression of allergen-driven T-cell activation to atopic status and expression of allergic disease. Lancet. 2004;363:608-15.
Walker MR, Kasprowicz DJ, Gersuk VH, Van Landeghen M, Buckner JH, Ziegler SF. Induction of FoxP3 and acquisition of T regulatory activity by stimulated human CD4CD25- T cells. J Clin Invest. 2003;112:1437-43.
Reefer AJ, Satinover SM, Solga MD, Lannigan JA, Nguyen JT, Wilson BB, Woodfolk JA. Analysis of CD25hiCD4+ "regulatory" T-cell subtypes in atopic dermatitis reveals a novel T(H)2-like population. J Allergy Clin Immunol. 2008;121(2):415-22.
Springer TA. Adhesion receptors of the immune system. Nature. 1990;346:425-34.
Wegner CD, Gundel RH, Reilly P, Haynes N, Letts LG, Rothlein R. Intercellular adhesion molecule-1 (ICAM-1) in the pathogenesis of asthma. Science. 1990;247: 456-9.
Kojima T, Ohno A, Aoki T, Hayashi N, Kobayashi Y. Circulation ICAM-1 levels in children with atopic dermatitis. Ann Allergy. 1994;73:351–5.
Hashimoto S, Imai K, Kobayashi T, et al. Elevated levels of soluble ICAM-1 in sera from patients with bronchial asthma. Allergy. 1993;48:370–2.
Chihara J, Yamamoto T, Kurachi D, Nakajima S. Soluble ICAM-1 in sputum of patients with bronchial asthma. Lancet. 1994;343:1108.
Ohashi Y, Nakai Y, Tanaka A, Kakinoki Y, Washio Y. Soluble adhesion molecules in middle ear effusions from patients with chronic otitis media with effusion. Clin Otolaryngol Allied Sci.
;23(3):231-4.
Caproni M, Volpi W, Giomi B, Torchia D, Del Bianco E, Fabbri P. Cellular adhesion molecules in chronic urticaria: modulation of serum levels occurs during levocetirizine treatment. Br J Dermatol. 2006;155:1270-4.
Traddi-Hoffmann C, Munster I, Ring J, Behrendt H. Impact of desloratadine in and loratadine on the crosstalk between human keratinocytes and leucocites: Implication for anti-inflammatory activities of antihistamines. Int Arch Allergy Immunol. 2006;4:315-20.
Leurs R, Church MK, Taglialatela M. H1-antihistamines: inverse agonism, anti-inflammatory actions and cardiac effects. Clin Exp Allergy. 2002;32:489–98.
Walsh GM. Levocetirizine: an update. Curr Med Chem. 2006;13(22):2711-5.
Dieogen T. Long term treatment with cetirizin of infants with atopic dermatitis: a multi country, double blind randomized, placebo-controled trial (the ETAC trial) over 18 months. Pediatr Allergy Immunol. 2002;13:278-86.
Leung DYM, Nicklas RA, Li JT, Bernstein L, Blessing-Moore J, Boguniewicz M, et al. Disease management of atopic dermatitis: an updated practice parameter. Annals of Allergy, Asthma & Immunology. 2004;93(3); S1-S21.
Sedgwick JB, BusseWW. Inhibitory effect of Cetirizine on cytokine-enhanced in vitro eosinophyl durvival. Ann Allergy Asthma Immunol. 1997;78:581-5.
Lokey RF, Widlitz MD, Mitchell DQ et al. Comparative study of cetirizine and terfenadine versus placebo in the symptomatic management of seasonal allergic rhinitis.Ann Allergy Asthma Immunol 1996;76:448-54.
Breneman D, Bronsky EA, Bruce S, Kalivas JT, Klein GL, Roth HL, Tharp MD, Treger C, Soter N. Cetirizine and astemizole therapy for chronic idiopathic urticaria: a double-blind, placebo-controlled, comparative trial. J Am Acad Dermatol.
;33(2 Pt 1):192-8.
Gonda A, Gal I, Szanto S, Sarraj B, Hunyadi J, Mikecz K, Glant TT. CD44 but not I selectin is critically involved in leucocite migration int skin in a murine model of allergic dermatitis. Exp
Dermatol. 2005;14:700-8.
Albanezi C, Pastore E, Fanales-Belasio E, Girolomoni G. Cetirizine and hydrocortisone differentially regulate ICAM 1 expression and chmokine release in cultured human keratinocytes. Clin Exper Allergy.1998;28:101-9.
Wu P, Mitchel S, Walsh GM. A new antihistamine levocetirizine inhibits eosinohil adhesion to vascular cell adhesion molecule-1 under flow conditions. Clin Exper Allergy. 2005;35:1073-9.
Kroegel C, Virchow JC Jr, Luttmann W, Walker C, Warner JA. Pulmonary immune cells in health and disease: the eosinophil leucocyte (Part I). Eur Respir J. 1994;7(3):519-43.
Morgan RK, McAllister B, Cross L, Green DS, Kornfeld H, Center DM, Cruikshank WW. Histamine 4 receptor activation induces recruitment of FoxP3+ T cells and inhibits allergic asthma in a murine model. J Immunol. 2007;178:8081-9.
Fumagalli F, Baiardini I, Pasquali M, Compalati E, Guera L, Massacane P, Canonica GW. Anihistamines: do they work? Further well-controlled trials involving larger samples are needed. Allergy. 2004;59 (Suppl. 78):74-7.
Steeber DA, Tang ML, Green NE, Zhang XQ, Sloane JE, Tedder TF. Leukocyte entry into sites of inflammation requires overlapping interactions between the L-selectin and ICAM-1 pathways. J Immunol. 1999;163(4):2176-86.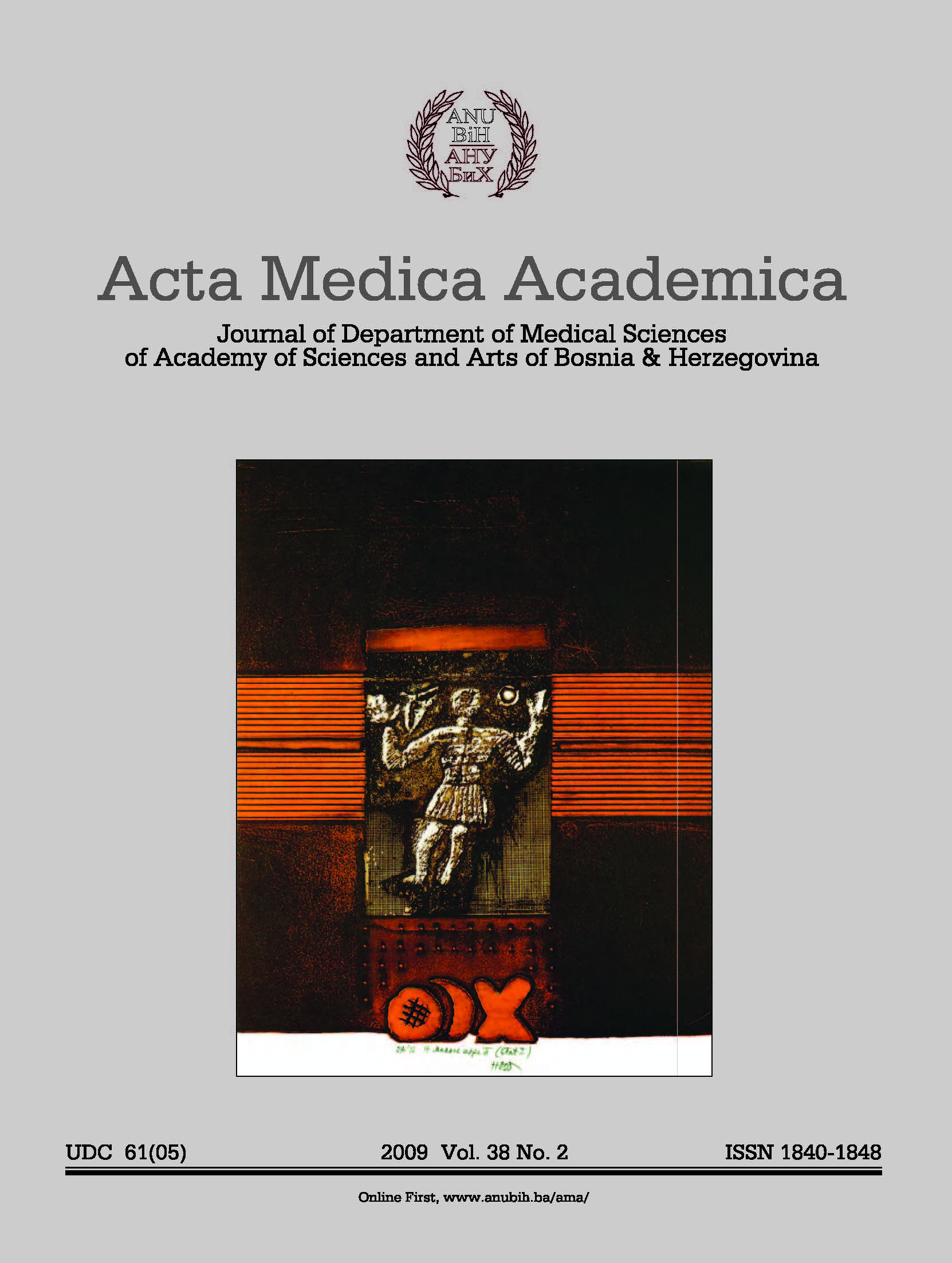 Downloads
How to Cite
Arifhodžić, N., Mahmoud, F., Ameen, R., & Al-Awadhi, R. (2009). Lymphocyte expression of CD4+CD25hi and adhesion molecules in children with Atopic dermatitis: the effect of Levocetirizine treatment. Acta Medica Academica, 38(2), 55–62. Retrieved from https://ama.ba/index.php/ama/article/view/62