Regenerative medicine and embryonic stem cells: are there alternatives?
Abstract
Use of human embryonic stem (ES) cells in regenerativemedicine is associated with ethical problems because thesecells can only be obtained from human embryos generatedoutside the human body. A recent discovery suggests that humanES-like cells can be obtained without generating humanembryos thus providing a problem free solution for regenerativemedicine.
Downloads
Download data is not yet available.
References
Tabar V, Tomishima M, Panagiotakos G, Wakayama S, Menon J, Chan B, Mizutani E, Al-Shamy G, Ohta H, Wakayama T, Studer L. Therapeutic cloning in individual parkinsonian mice. Nat Med. 2008; March 23. Epub ahead of print.
Thomson JA, Itskovitz-Eldor J, Shapiro SS, Waknitz MA, Swiergiel JJ, Marshall VS, Jones JM. Embryonic stem cell lines derived from human blastocysts. Science. 1998;282:1145-47.
French AJ, Adams CA, Anderson LS, Kitchen JR, Hughes MR, Wood SH. Development of human cloned blastocysts following somatic cell nuclear transfer with adult fibroblasts. Stem Cells. 2008; 26(2):485-93.
Byrne JA, Pedersen DA, Clepper LL, Nelson M, Sanger WG, Gokhale S, Wolf DP, Mitalipov SM. Producing primate embryonic stem cells by somatic cell nuclear transfer. Nature. 2007;450(7169): 497-502.
Meissner A, Jaenisch R. Generation of nuclear transfer-derived pluripotent ES cells from cloned Cdx2-deficient blastocysts. Nature. 2006; 439(7073):212-5.
Takahashi K, Yamanaka S. Induction of pluripotent stem cells from mouse embryonic and adult fibroblast cultures by defined factors. Cell. 2006; 126(4):663-76.
Takahashi K, Tanabe K, Ohnuki M, Narita M, Ichisaka T, Tomoda K, Yamanaka S. Induction of pluripotent stem cells from adult human fibroblasts by defined factors. Cell. 2007;131(5):861-72.
Yu J, Vodyanik MA, Smuga-Otto K, Antosiewicz-Bourget J, Frane JL, Tian S, Nie J, Jonsdottir GA, Ruotti V, Stewart R, Slukvin II, Thomson JA. Induced pluripotent stem cell lines derived from human somatic cells. Science. 2007;318:1917-20.
Nakagawa M, Koyanagi M, Tanabe K, Takahashi K, Ichisaka T, Aoi T, Okita K, Mochiduki Y, Takizawa N, Yamanaka S. Generation of induced pluripotent stem cells without Myc from mouse and human fibroblasts. Nat Biotechnol. 2008;26(1):101-6.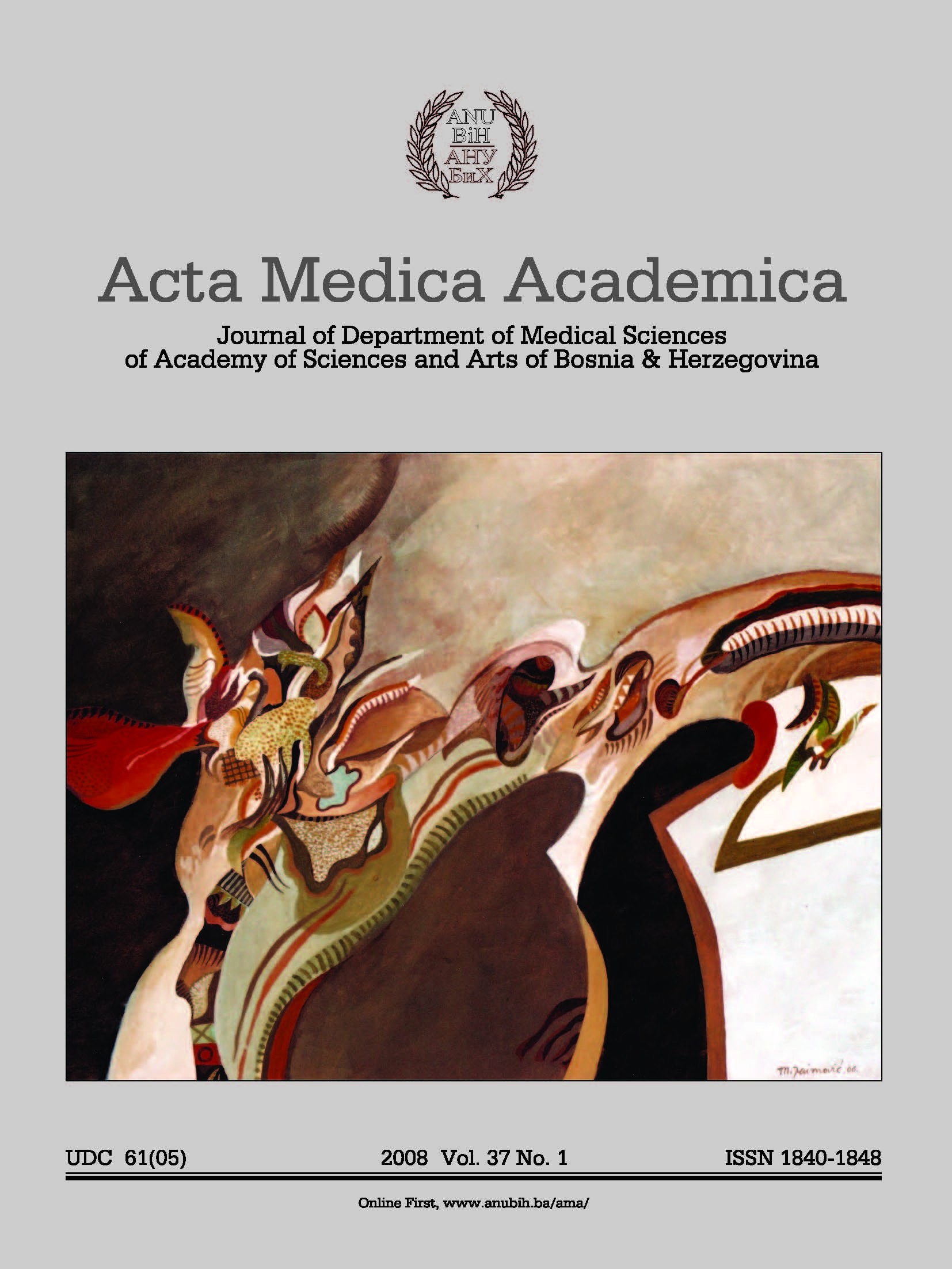 Downloads
How to Cite
Slijepčević, P. (2008). Regenerative medicine and embryonic stem cells: are there alternatives?. Acta Medica Academica, 37(1), 43–49. Retrieved from https://ama.ba/index.php/ama/article/view/43