Pyogenic discitis in adolescence: a case report and review of the literature
Keywords:
Pyogenic discitis, Adolescence
Abstract
Back pain in adolescents can have many underlying reasons. Even though discitis is an uncommon condition, health care professionals should suspect discitis in children and adolescents with back pain with or without a history of trauma. With early diagnosi
Downloads
Download data is not yet available.
References
Kayser R, Mahlfeld K, Greulich M, Grasshoff H. Spondylodiscitis in childhood: results of a longterm
study. Spine. 2005;30(3):318-23.
Wenger DR, Bobechko WP, Gilday DL. The spectrum of intervertebral disc-space infection in children. J Bone Joint Surg Am. 1978;60(1):100-8.
Cushing AH. Diskitis in children. Clin Infect Dis. 1993;17:1-6.
Crawford AH, Kucharzyk DW, Ruda R, Smitherman, Jr, HC. Discitis in children. Clin Orthop. 1991;266:70-9.
Morrissy RT, Haynes DW. Acute hematogenous osteomyelitis: A model with trauma as an etiology. J Pediatr Orthop. 1989;9(4):447-56.
Scoles PV, Quinn TP. Intervertebral discitis in children and adolescents. Clin Orthop. 1982;162:31-6.
Menelaus MB. Discitis: An inflammation affecting the intervertebral discs in children. J Bone Joint Surg Br. 1964;46(1):16-23.
Ring D, Wenger DR. Magnetic resonance imaging scans in discitis. J Bone Joint Surg Am. 1994;76(4):596-601.
Ring D, Johnston II, CE, Wenger DR. Pyogenic infections spondylitis in children: The convergence of discitis and vertebral osteomyelitis. J Pediatr Orthop. 1995;15(5):652-60.
Fernandez M, Carrol CL, Baker CJ. Discitis and vertebral osteomyelitis in children: An 18-year review. Pediatrics. 2000;105(6):1299-1304.
Szalay EA, Green NE, Heller RM, Horev G, Kirchner SG. Magnetic Resonance Imaging in the diagnosis of childhood discitis. J Pediatr Orthop. 1987;7(2):64-7.
Early SD, Kay RM, Tolo VT. Childhood diskitis. J Am Acad Orthop Surg 2003;11(6):413-20.
Trueta J. The three types of acute haematogenous osteomylitis: A clinical and vascular study. J Bone Joint Surg Br. 1959;41(4):671-80.
Glazer PA, Hu SS. Pediatric spinal infections. Ortho Clin North Am. 1996;27(1):111-23.
Hensinger RN. Acute back pain in children. Instru Course Lect. 1995;44:111-26.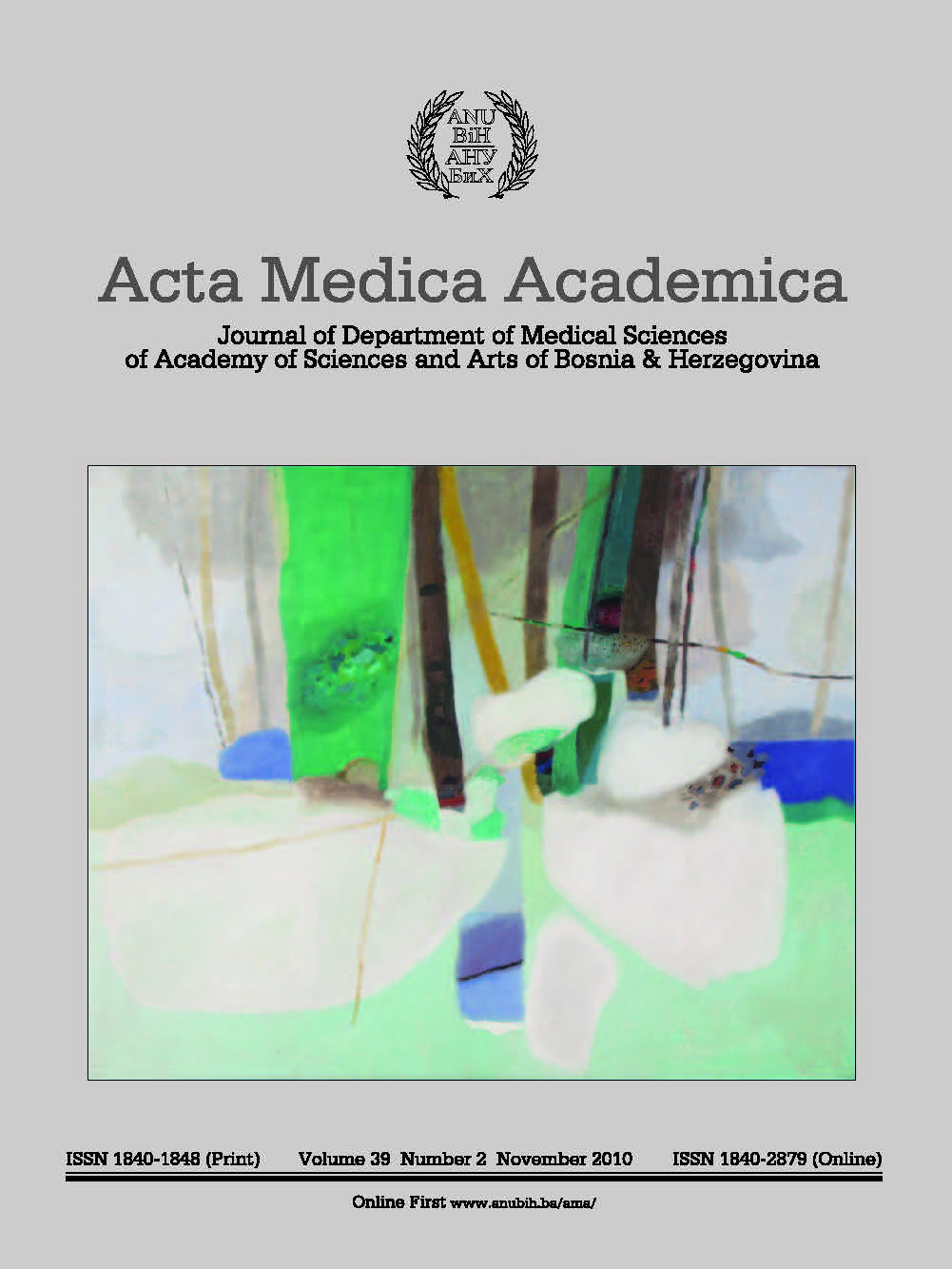 Downloads
How to Cite
Karaikovic, E. E., Limthongkul, W., Hearty, T., & Goldberg, S. (2010). Pyogenic discitis in adolescence: a case report and review of the literature. Acta Medica Academica, 39(2), 194–198. Retrieved from https://ama.ba/index.php/ama/article/view/89