Multiple pyogenic liver abscesses formed after appendectomy: The role of percutaneous drainage in critically ill patient
Keywords:
Interventional ultrasonography, Multiple simultaneous drainages, Antibiotic therapy
Abstract
Multiple pyogenic liver abscesses formed after appendectomy andtheir percutaneous treatment with multiple catheters have been rarelydescribed. We report a case of multiple pyogenic liver abscesses in acritically ill patient, formed after appendectomy and treated successfullyby antibiotics and drainage with six catheters that were introducedsimultaneously under ultrasound control. Even though this wasa case of liver abscess secondary to appendicitis, today very rare inWestern countries, but still a serious complication in developing countries,it was successfully resolved by percutaneous drainage, along withantibiotic therapy. Conclusion. We emphasize the advantages of percutaneoustreatment compared with surgery regarding the avoidanceof perioperative complications and the risks of general anesthesia.

Downloads
Download data is not yet available.
References
Lee KT, Wong SR, Sheen PC. Pyogenic liver abscess: an audit of 10 years' experience and analysis of risk factors. Dig Surg. 2001;18(6):459-66.
Bahloul M, Chaari A, Bouaziz-Khlaf N, Kallel H, Herguefi L, Chelly H, et al. Multiple pyogenic liver abscess. World J Gastroenterol. 2006;12(18):2962-3.
Alvarez Perez JA, Gonzalez JJ, Baldonedo RF, Sanz L, Carreno G, Junco A, et al. Clinical course, treatment, and multivariate analysis of risk factors for pyogenic liver abscess. Am J Surg.
;181(2):177-86.
Seeto RK, Rockey DC. Pyogenic liver abscess. Changes in etiology, management, and outcome. Medicine (Baltimore). 1996;75(2):99-113.
Bergert H, Kersting S, Pyrc J, Saeger HD, Bunk A. Therapeutic options in the treatment of pyogenic liver abscess. Ultrashall Med. 2004;25(5):356-62.
Alvarez JA, Gonzalez JJ, Baldonedo RF, Sanz L, Carreno G, Jorge JI. Single and multiple pyogenic liver abscesses: etiology, clinical course, and outcome. Dig Surg. 2001;18(4):283-8.
Zerem E, Jusufović R. Percutaneous treatment of univesicular versus multivesicular hepatic hydatid cysts. Surg Endosc. 2006;20(10):1543-7.
Inoue T, Hirata I, Egashira Y, Ishida K, Kawakami K, Morita E, et al. Refractory ulcerative colitis accompanied with cytomegalovirus colitis and multiple liver abscesses: A case report. World J Gastroenterol. 2005;11(33):5241-4
Zerem E, Bergsland J. Ultrasound guided percutaneous treatment of splenic abscesses: The significance in treatment of critically ill patients. World J Gastroenterol. 2006;12(45):7341-5.
Di Carlo P, Pantuso G, Cusimano A, D'Arpa F, Giammanco A, Gulotta G, et al. Two cases of monomicrobial intraabdominal abscesses due to KPC-3 Klebsiella pneumoniae ST258 clone. BMC Gastroenterol. 2011;11:103.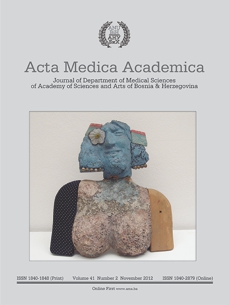 Downloads
How to Cite
Zerem, E., & Sušić, A. (2012). Multiple pyogenic liver abscesses formed after appendectomy: The role of percutaneous drainage in critically ill patient. Acta Medica Academica, 41(2), 210–213. Retrieved from https://ama.ba/index.php/ama/article/view/153
Section
Case Presentation