Clinical and therapeutic data of a child with ecthyma gangrenosum
Keywords:
Pseudomonas aeruginosa, Ecthyma gangrenosum, Immunodeficiency, Neutropeni, Infant
Abstract
The presence of the Pseudomonas aeruginosa infection inhealthy children is very uncommon. Infants may occasionallypresent with community-acquired sepsis due to Pseudomonasaeruginosa, preceded by prolonged contact withcontaminated bath water. Ecthyma gangrenosum is a characteristicdermatological manifestation caused most commonlyby Pseudomonas aeruginosa. We describe the clinical dataand therapeutic management of a 6 month-old infant withecthyma gangrenousum caused by Pseudomonas aeruginosa,complicated with septicaemia and meningitis. The infant wasimmunodeficient as indicated by hypogammaglobulinemia,neutropenia, and a low level of C3 complement component.
Downloads
Download data is not yet available.
References
Basil J, Holly Z, Davis W. Atlas of pediatric physical
diagnosis-third edition. St. Louis: Mosby-Wolfe. 1997;364-5.
Boisseau AM, Sarlangue J, Perel Y, Hehunstre JP, Taïeb A, Maleville J . Perineal ecthyma gangrenosum in infancy and early childhood: septicemic and nonsepticemic forms. J Amer Acad Derm. 1992;27:415-8.
Brady MT, FeiginRD. Pseudomonas and related species. In: Feigin RD, Cherry J D, ed Textbook of pediatric infectious diseases. 4. ed. Philadelphia: W.B.Saunders. 1998;1401-13.
Dunkle LM, Abramowsky C. An 11-month-old infant with fatal Pseudomonas aeruginosa septicemia. Pediatr Infect Dis J. 1991;10(10):772-7.
Fergie JE, Patrick CC, Lott L. Pseudomonas aeruginosa cellulitis and ecthyma gangrenosum in immunocompromised
children. Pediatr Infect Dis J. 1991;10(7):496-500.
Greene SL, Su WP, Muller SA. Ecthyma gangrenosum: report of clinical, histopathologic, and bacteriologic aspects of eight cases. J Am Acad Dermatol. 1984;11(5 Pt 1):781-7.
Huminer D, Siegman-Igra Y, Morduchowicz G, Pitlik SD. Ecthyma gangrenosum ithout bacteremia. Report of six cases and review of the literature. Arch Intern Med. 1987;147(2):299-301.
Ng W, Tan CL, Yeow V, Yeo M, Teo SH. Ecthyma gangrenosum in a patient with hypogammaglobulinemia. J Infect. 1998;36(3):331-5.
Reymond D, Frey B, Birrer P. [Invasive Pseudomonas aeruginosa and Ecthyma gangrenosum infection in a child without risk factors]. Arch Pediatr. 1996;3(6):569-72.
Richard E. Behrman; Robert M. Kliegman; Hal B. Jenson.-Nelson textbook of pediatrics-17th ed.; 2004. p. 725-2226.
Sevinsky LD, Viecens C, Ballesteros DO, Stengel F. Ecthyma gangrenosum: a cutaneous manifestation of Pseudomonas aeruginosa sepsis. J Am Acad Dermatol. 1993;29(1):104-6.
Wong SN, Tam AY, Yung RW, Kwan EY, Tsoi NN. Pseudomonas septicaemia in apparently healthy children. Acta Paediatr Scand. 1991;80(5):515-20.
De Vos FY, Middelburg TA, Seynaeve C, de Jonge MJ. Ecthyma gangrenosum caused by Pseudomonas aeruginosa in a patient with astrocytoma treated with chemotherapy. J Infect Chemother. 2010;16:59–61.
Yassaee M, Berger Elmariah S, Perelman RO, Ubriani R, James WD, Gross PR. Ecthyma Gangrenosum. eMedicine-Dermatology, 2008. Available from: http://emedicine.medscape.com/article/1053997-overview.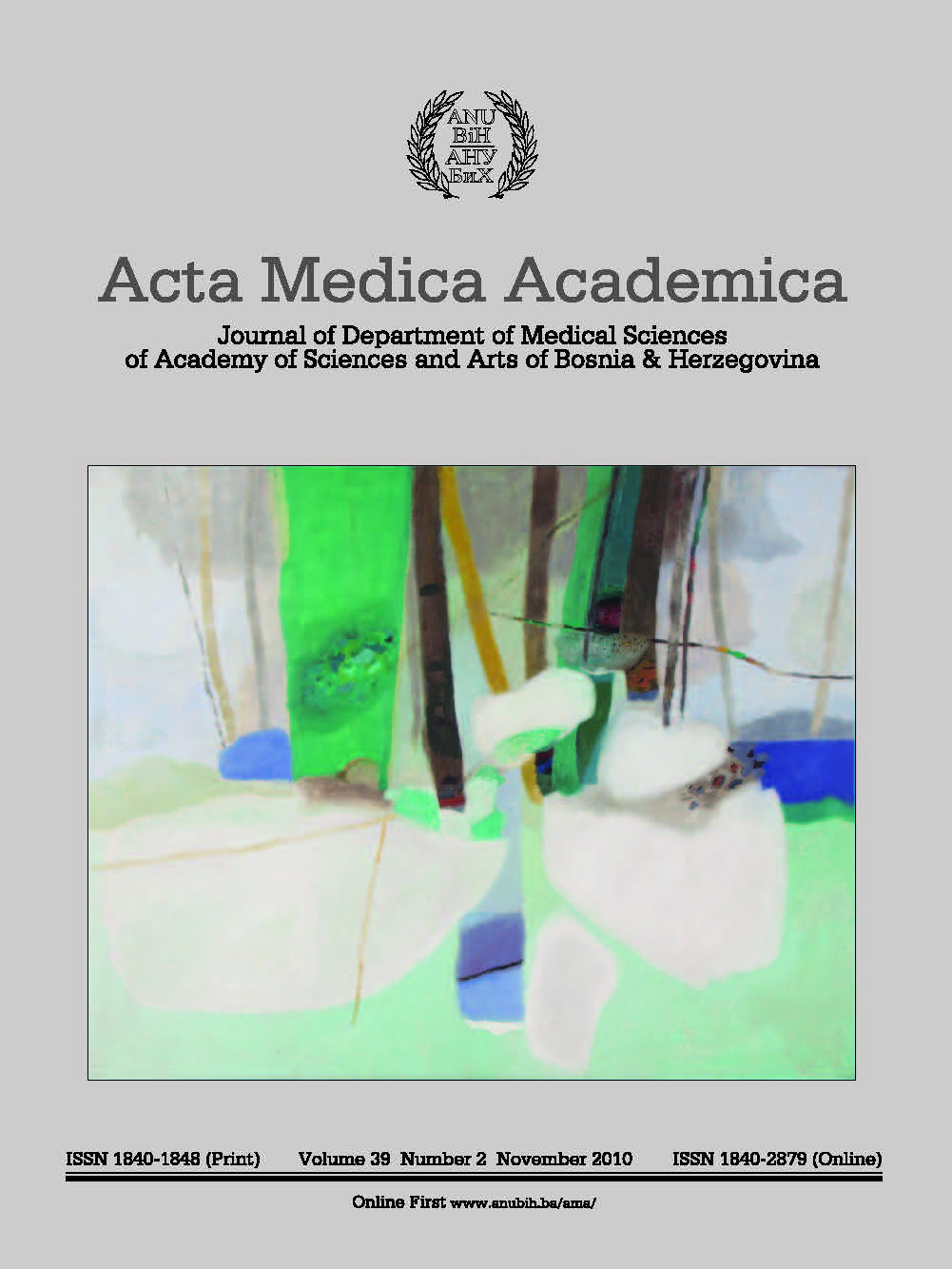 Downloads
How to Cite
Bakalli, I., Sallabanda, S., Kola, E., Lluka, R., Zavalani, F., Petrela, R., & Gjyzeli, E. (2010). Clinical and therapeutic data of a child with ecthyma gangrenosum. Acta Medica Academica, 39(2), 205–208. Retrieved from https://ama.ba/index.php/ama/article/view/91