Sudden infant death syndrome: a case report in Bosnia and Herzegovina
Keywords:
Sudden infant death syndrome, Bosnia and Herzegovina
Abstract
Sudden infant death syndrome (SIDS) is an idiopathic conditionthat affects seemingly healthy infants under one year ofage, whose death remains unexplained after the performanceof a complete postmortem examination, toxicological analyses,genetic testing, death scene investigation, and a reviewof the mother's and infant's medical history. Detailed epidemiological,pathological, and forensic information has beenreported regarding SIDS from the developed countries. However,SIDS information from developing countries is eitherwidely scattered or non-existent. This is the first publishedcase report of SIDS from the country of Bosnia and Herzegovina.A previously healthy 3 months old, white male infantwas found dead after being placed to sleep in the prone position.The features of this case report closely parallel the classicalfeatures of SIDS cited in the world literature. The infantwas healthy, male, between the ages of 2-12 months, discoveredin the prone position and had a negative postmorteminvestigation. It is important for developing countries such asBosnia and Herzegovina to conduct detailed forensic investigationsof deaths from SIDS and provide epidemiological,pathological, and circumstances of that information to theworld's collective knowledge.
Downloads
Download data is not yet available.
References
Beckwith JB. Discussion of the terminology and definition of the sudden infant death syndrome. In: Bergman AB, Beckwith JB, Ray CG, eds. Proceedings of the Second International Conference on Causes of Sudden Death in Infants. Seattle:
University of Washington Press; 1970. p. 14-22.
Mage DT, Donner M. A Unifying Theory for SIDS. Int J Pediatr. 2009;2009:368270. 3. Shannon DC, Kelly DH. SIDS and near-sids. N Engl J Med. 1982;306(16):959-65.
Kinney HC, Thach BT. The sudden infant death syndrome. N Engl J Med. 2009;361(8):795-805.
Arias E, MacDorman MF, Strobino DM, Guyer B. Annual summary of vital statistics: 2002. Pediatrics. 2003;112(6, pt 1):1215-30.
Moon RY, Horne RS, Hauck FR. Sudden infant death syndrome. Lancet. 2007;370:1578-87.
Grether JK, Schuman J, Croen LA. Sudden infant death syndrome among Asians in California. J Pediatr. 1990;116:525–8.
Hayward J, D'Alessin DJ. SIDS: race as a factor. Wis Med J. 1990;89:11–4.
Courts C, Madea B. Genetics of the sudden infant death syndrome. Forensic Sci Int. 2010 Jul 29. [Epub ahead of print] PubMed PMID: 20674198.
Kinney HC, Richerson GB, Dymecki SM, Darnall RA, Nattie EE. The Brainstem and Serotonin in the SIDS. Annu Rev Pathol Mech Dis. 2009;4: 517-50.
Blackwell CC, Moscovis SM, Gordon AE, Al Madani OM, Hall ST, Gleeson M, et al. Cytokine responses and sudden infant death syndrome: genetic, developmental, and environmental risk factors. J Leukoc Biol. 2005;78(6):1242-54.
Brotherton JM, Hull BP, Hayen A, Gidding HF, Burgess MA. Probability of coincident vaccination in the 24 or 48 hours preceding sudden infant death syndrome death in Australia. Pediatrics. 2005;115(6):e643-6.
Beckwith JB. Defining the sudden infant death syndrome. Arch Pediatr Adolesc Med. 2003;157(3):286-90.
Kelly DH, Shannon DC. Sudden infant death syndrome and near sudden infant death syndrome: a review of the literature, 1964 to 1982. Pediatr Clin North Am. 1982;29(5):1241-61.
Mitchell EA. SIDS: Past, Present and Future. Acta Paediatrica. 2009;98:1712-19.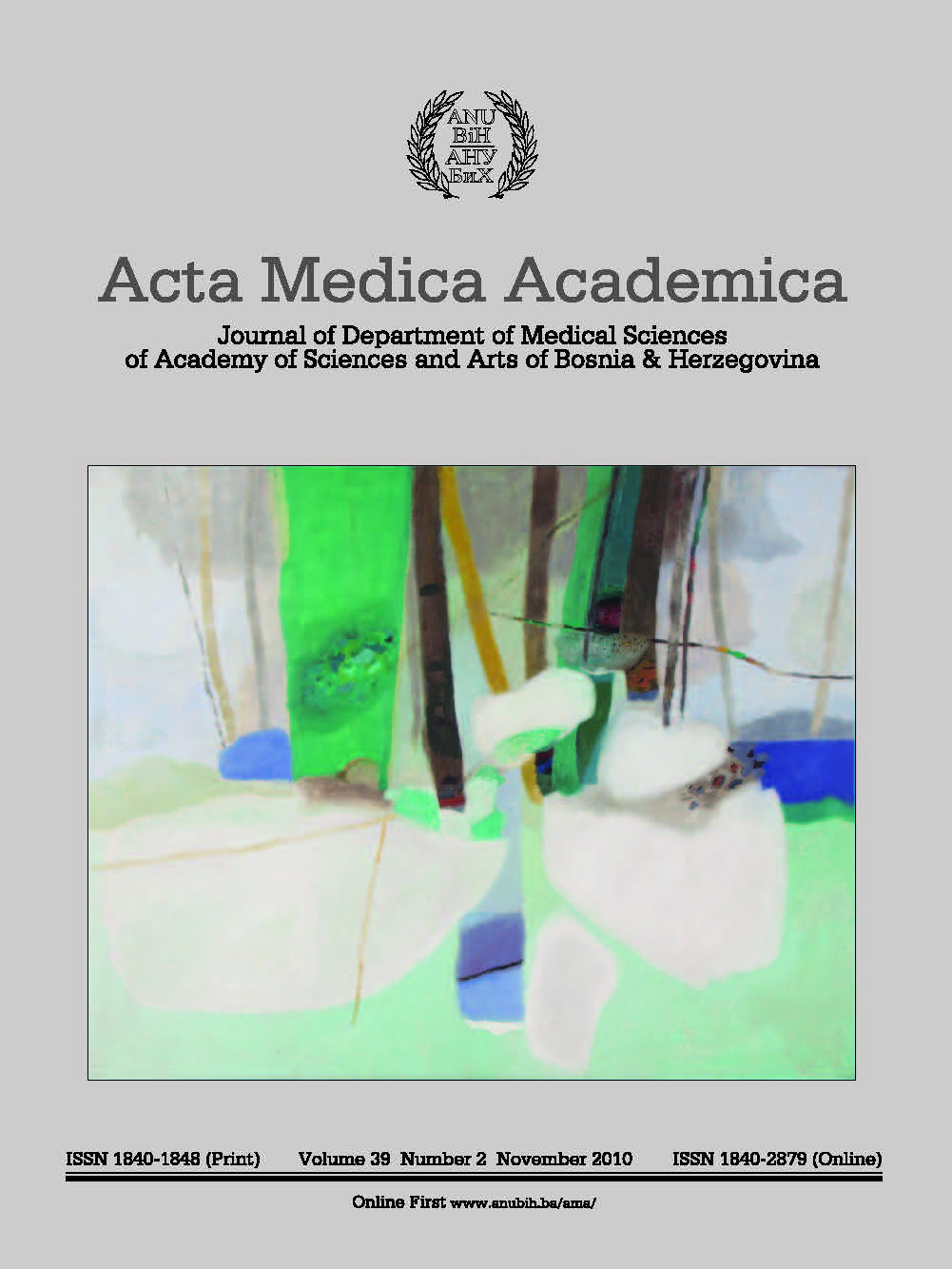 Downloads
How to Cite
Ćajić, D., Tahirović, H., & Koehler, S. A. (2010). Sudden infant death syndrome: a case report in Bosnia and Herzegovina. Acta Medica Academica, 39(2), 209–212. Retrieved from https://ama.ba/index.php/ama/article/view/92