Clinicals skills training: two generations and two worlds apart Part One
Keywords:
Clinical skills, Medical education, Curriculum reform, Catalogue, Portfolio
Abstract
Objective. Here, we compare clinical skills training in the 20thand 21st centuries in two different countries, in order to underlineadvancements and principal obstacles. Methods. Theclinical training of medical students in the nineteen-sixties atthe Sarajevo School of Medicine, Yugoslavia, and contemporarytraining at one of Europe's prestigious medical schools atHeidelberg University, Germany were analyzed with respect tothe organization of training, teaching tools, methods, and staff.Several issues were defined as unimproved over the course oftime, and we suggest that they present the core of the currentproblem. Results. Considerable advances have been made inteaching methodologies, tools and assessment of students. Themajor remaining obstacles are the institutional value system,poor motivation of teaching staff, curriculum structure, timing,and placement of training in the curriculum, as well as thepatients' attitude towards participation in the training. Conclusions.In the process of bettering the existing training modelswe suggest acting along several lines. Increased institutionalawareness of obstacles, as well as willingness to develop theways and means to increase the motivation of the faculty, isimperative. Furthermore, it is necessary to introduce changesin the structure and timing of training and to complement itwith a Catalogue, Practicum and Portfolio of Clinical Skills.We believe that recognizing the impediments and employingthe proposed solutions could significantly improve the qualityof clinical skills training.
Downloads
Download data is not yet available.
References
Dornan T, Bundy C. What can experience add to early medical education? BMJ. 2004;329:834-7.
Dienstag JL. Relevance and Rigor in Premedical Education. NEJM. 2008; 359:221-4.
Cox M, Irby DM. A New Series on Medical Education. NEJM. 2006;355:1375-6.
Epstein RM: Assessment in Medical Education. NEJM. 2007;356:387-96.
Cooke M, Irby DM, Sullivan W, Ludmerer KM. American Medical Education 100 Years after the Flexner Report. NEJM. 2006;355:1339-44.
Kleinman A. Catastrophe and care giving: the failure of medicine as an art. The Lancet. 2008; 371(9606);22–23. doi:10.1016/S0140-6736(08)60057-4.
Arky RA. Shattuck lecture: The family business-To educate. N Engl J Med. 2006; 354:1922-6.
Wellbery C. Medical education must be more patient centered to be relevant. BMJ. 2006;333: 813.
Lempp H, Seale C. The hidden curriculum in undergraduate medical education. BMJ. 2004;329:770–3.
Stockdale A. Medical education must be more patient centred: Good in theory but not in practice. BMJ.com Rapid response 18 Oct. 2006. http://www.bmj.com/cgi/eletters/333/7572/813#144292
Woods DR. "Problem-based Learning: helping your students gain the most from PBL" 3rd ed. Hamilton, Ontario: McMaster University Press: 2006.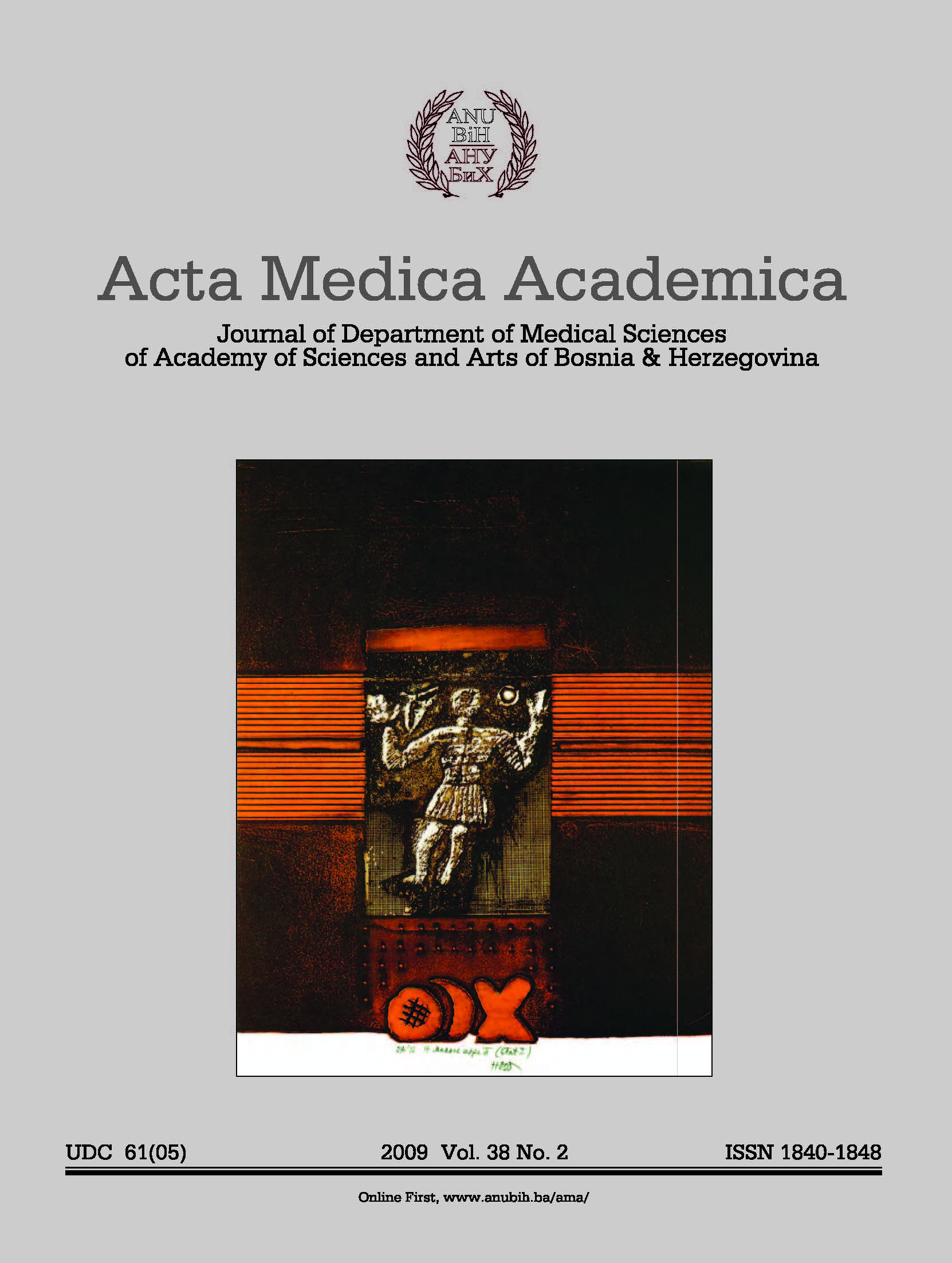 Downloads
How to Cite
Šimunović, F., & Šimunović, V. J. (2009). Clinicals skills training: two generations and two worlds apart Part One. Acta Medica Academica, 38(2), 70–76. Retrieved from https://ama.ba/index.php/ama/article/view/64