Training for clinical skills in the 20th and 21st centuries: two generations and two worlds apart Part Two*
Keywords:
Clinical skills, Medical education, Curriculum reform, Catalogue, Portfolio
Abstract
Objective. Here, we compare clinical skills training in the20th and 21st centuries in two different countries, in order tounderline advancements and principal obstacles. Methods.The clinical training of medical students in the nineteensixtiesat the Sarajevo School of Medicine, Yugoslavia, andcontemporary training at one of Europe's prestigious medicalschools at Heidelberg University, Germany were analyzedwith respect to the organization of training, teachingtools, methods, and staff. Several issues were defined as unimprovedover the course of time, and we suggest that theypresent the core of the current problem. Results. Considerableadvances have been made in teaching methodologies,tools and assessment of students. The major remaining obstaclesare the institutional value system, poor motivation ofteaching staff, curriculum structure, timing, and placementof training in the curriculum, as well as the patients' attitudetowards participation in the training. Conclusions. In theprocess of bettering the existing training models we suggestacting along several lines. Increased institutional awarenessof obstacles, as well as willingness to develop the ways andmeans to increase the motivation of the faculty, is imperative.Furthermore, it is necessary to introduce changes in thestructure and timing of training and to complement it witha Catalogue, Practicum and Portfolio of Clinical Skills. Webelieve that recognizing the impediments and employing theproposed solutions could significantly improve the quality ofclinical skills training.
Downloads
Download data is not yet available.
References
MicroSim Inhospital. [CD-ROM]. Stavanger: Laerdal Medical; 2005.
Association of American Medical Colleges (AAMC). Medical Informatics Advisory Panel: Report II. Contemporary Issues in Medicine: Medical Informatics and Population Health. http://www.aamc.org/ Accessed: April 11, 2010.
Simunovic VJ. The Influence of Medical Informatics and Communication and Information Technologies on Medical Education. Period Biolog. 2004;106(4):84-93.
Ludmerer KM. Learner-Centered Medical Education. N Engl J Med. 2006;351:1163-4.
Huwendiek S, Mennin S, Nikendei C. Medical education after the Flexner report. N Engl J Med. 2007;356:90.
Irby DM. Educational Continuity in Clinical Clerkships. N Engl J Med. 2007;356:856-7.
Hirsh DE, Ogur B, Thibault GA, Cox M. "Continuity" as an organizing principle for clinical education reform. N Engl J Med. 2007;356:858-66.
Driessen E. Are learning portfolios worth the effort? Br Med J. 2008;337:513.
Epstein RM, Hundert EM. Defining and assessing professional competence. JAMA. 2002;287:226-35.
Šimunović VJ, Sonntag HG, Marz R, Horsch A. Reform of medical education in Bosnia-Herzegovina: luxury or necessity? Croat Med J. 2004;45:31-7.
Simunovic VJ; Transition in Minds and Souls. Br Med J. 2005;331:242.
Sambunjak D, Šimunović VJ. Peace through medical education in Bosnia and Herzegovina. Lancet. 2007;369:905.
Simunovic VJ, Sonntag H-G, Hren D, Doerup J, Krivokuća Z, Bokonjić D, et al. Bridging the educational gaps between Eastern and Western European medical schools through a comprehensive assessment of medical schools in Bosnia and Herzegovina. Med Educ. 2006;40:1162-72.
Šimunović VJ, editor. Catalogue of knowledge and clinical skills. Zagreb: Medicinska naklada; 2007.
Tuthill J. See one, do one, teach one. Lancet 2008; 371(9628):1906. URL http://www.proceduresconsult.com/medical-procedures/ Accessed April 11. 2010.
Šimunović VJ, Mimica M, editors. Practicum of clinical skills. Mostar: Mostar University Press; 2007 [In Croatian].
Annas GJ. Doctors and lawyers and wolves. Lancet. 2008; 371(9627):1832-33.
Simunovic F. Is there a place for medical students in research laboratories? A student's perspective. Med Teach. 2008;30(9-10):875-6.
Horton R. Can caring for patients be taught? Editorial. Lancet. 2007;370(9588):630.
Reilly BM. Inconvenient truths about effective clinical teaching. Lancet. 2007;370(9588):705-11.
Stern D, Papadakis M. The Developing Physician— Becoming a Professional. N Engl J Med. 2006;335:1794-99.
Simunovic F. The other side. sBr Med J. 2006;14:32-33.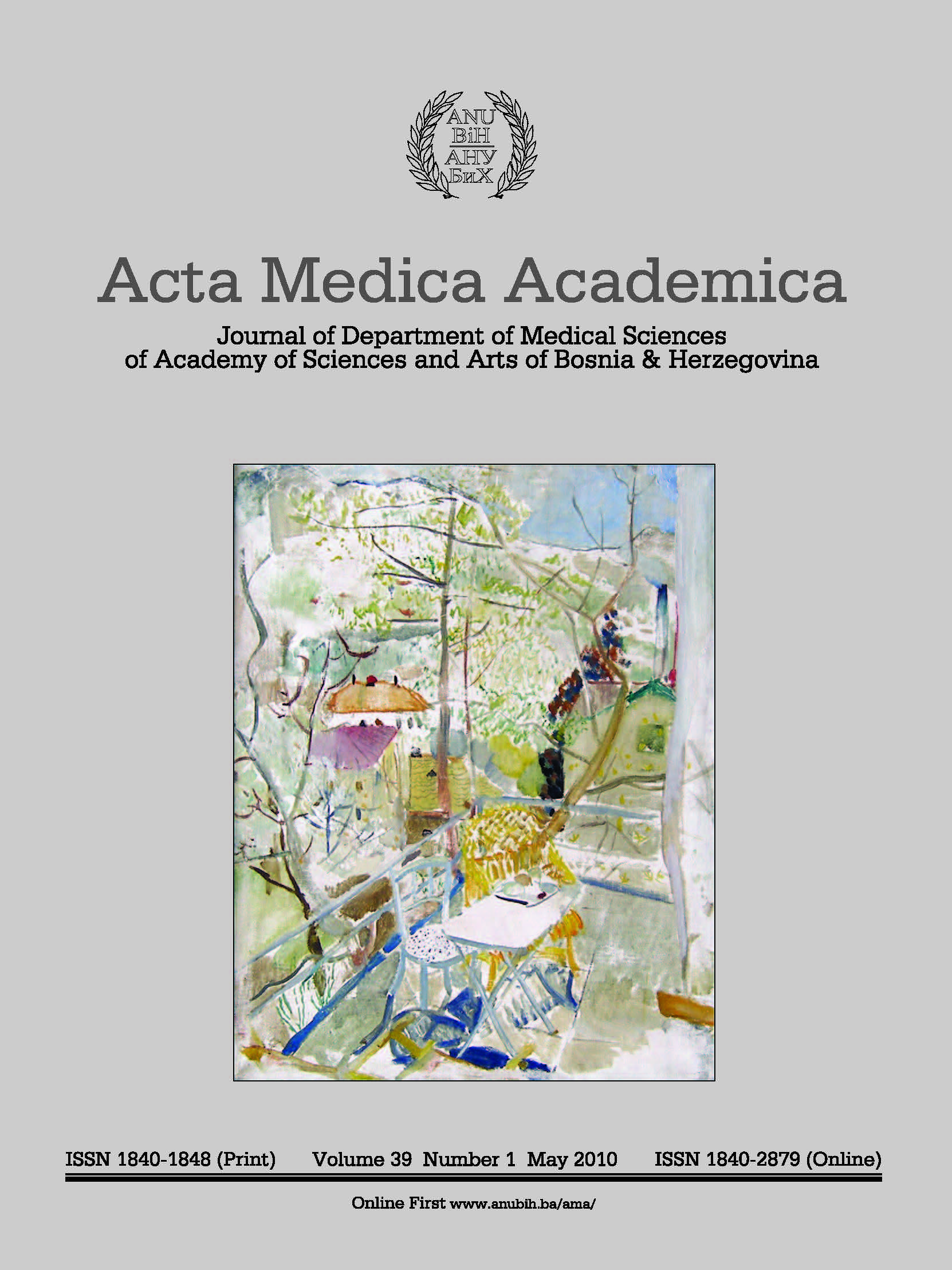 Downloads
How to Cite
Šimunović, F., & Šimunović, V. J. (2010). Training for clinical skills in the 20th and 21st centuries: two generations and two worlds apart Part Two*. Acta Medica Academica, 39(1), 30–40. Retrieved from https://ama.ba/index.php/ama/article/view/73