End-of-life care in the intensive care unit: the perceived barriers, supports, and changes needed
Keywords:
End-of-life care, Intensive care unit, Physicians, Nurses
Abstract
Objective. To identify perceived barriers, supports andchanges needed to improve end-of-life care (EOLC) in theintensive care unit (ICU) and to compare physicians' perceptionswith those of nurses. Methods. We conducted a surveyof critical care physicians and nurses in an academic medicalcenter via a 3-item survey with open-ended statements regardingthe strongest barriers, supports and changes neededto improve EOLC in ICU. Results. Thirty-four percent of allrespondents identified physicians as the biggest barrier andthirty-three percent recognized nursing staff as the strongestsupport towards optimal EOLC. Improved communicationwas identified by 30% of respondents as the change mostneeded to improve EOLC. No significant differences betweenphysicians and nurses were observed. Conclusions. Criticalcare physicians and nurses identified similar barriers, supportsand the changes most needed to improve EOLC in the ICU.Recognition of physicians as the strongest barrier, and communicationas the change most needed indicate areas for improvement.The finding of nurses as the strongest support for goodEOLC provides the opportunity to strengthen their role in thecare of the dying patient. Further study of these findings willhelp develop strategies to improve EOLC in the ICU.
Downloads
Download data is not yet available.
References
National Center for Health Statistics. Work Table 309: Deaths by Place of Death, Age, Race, and Sex 2004. http://www.cdc.gov/nchs/data/dvs/MortFinal2004_Worktable309.pdf. Accessed December 17, 2008.
Angus DC, Barnato AE, Linde-Zwirble WT, Weissfeld LA, Watson RS, Rickert T, et al. Use of Intensive Care at the End of Life in the United States: An Epidemiologic Study. Crit Care Med. 2004;32:638-43.
Goldsmith B, Dietrich J, Quingling D, Morrison RS. Variability in Access to Hospital Palliative Care in the United States. J Pall Med. 2008;11:1094-102.
National Hospice and Palliative Care Organization: Position Statement on Access to Palliative Care in Critical Care Settings 2008. Alexandria, VA: National Hospice and Palliative Care Organization; 2008.
Truog RD, Campbell ML, Curtis JR, Haas CE, Luce JM, Rubenfield GD, et al. Recommendations for End of Life Care in the Intensive Care Unit: A Consensus Statement by the American College of Critical Care Medicine. Crit Care Med.
;36:953-63.
Oberle K, Hughes D. Doctors' and Nurses' Perceptions of Ethical Problems in End-of-Life Decisions. J Advanced Nursing. 2001;33:707-15.
Hamrick AB, Blackhall LJ. Nurse-Physician Perspectives on the Care of Dying Patients in Intensive Care Units: Collaboration, Moral Distress, and Ethical Climate. Crit Care Med. 2007;35:422-9.
Ferrand E. Discrepancies Between Perceptions by Physicians and Nursing Staff of Intensive Care Unit End-of-Life Decisions. Am J Respiratory Crit Care Med. 2003;67:1310-5.
Rabatin JT, Festic E. A Curriculum to Discuss the Ethical, Legal, and Practical Aspects of Withdrawing Life-Sustaining Treatments in the ICU. Proc ATS 2005;2:A909.
Warren SC, Hines SC, Moss AH. Concerns and Self-Reported Competencies in End-of-Life Care: A Survey of Physicians in West Virginia. WV Med J. 2000;96:455-7.
Salahuddin N, Shafqat S, Mapara S, Khan S, Siddiqui S, Manasia R, et. End of Life in the Intensive Care Unit: Knowledge and Practice of Clinicians from Karachi, Pakistan. Intern Med J. 2008;308:307-13.
Kirchhoff KT, Spuhler V, Walker L, Hutton A, Cole BV, Clemmer T. Intensive Care Nurses' Experiences with End-of-Life Care. Am J Crit Care. 2000;9:36-42.
Kirchoff KT, Beckstrand RL. Critical Care Nurses' Perceptions of Obstacles and Helpful Behaviors in Providing End-of-Life Care to Dying Patients. Am J Crit Care. 2000;9:96-105.
Festic E, Rabatin JT, Del Mundo J. Perspectives of Critical Care Physicians and Nurses Regarding End-of-Life Care in the ICU. Am J Resp Crit Care Med. 2003;167:A582.
Podnos YD, Wagman LD: The Surgeon and Palliative Care. Ann Surg Onc. 2006;14:1257-63.
Galante JM, Bowles TL, Khatri VP, Schneider PD, Goodnight Jr JE, Bold RJ. Experience and Attitudes of Surgeons Toward Palliation in Cancer. Arch Surg. 2005;140:873-80.
Cassell J, Buchman TG, Streat S, Stewart RM. Surgeons, Intensivists, and the Covenant of Care: Administrative Models and Values Affecting Care at the End of Life—Updated. Crit Care Med. 2003;31:1551-9.
Billings JA, Keeley A, Bauman J, Cist A, Coakley E, et al. Merging Cultures: Palliative Care Specialists in the Medical Intensive Care Unit. Crit Care Med. 2006;34:S388-93.
Puntillo KA, Benner P, Drought T, Drew B, Stotts N, Stannard D, et al. End-of-life issues in intensive care units: a national random survey of nurses' knowledge and beliefs. Am J Crit Care. 2001;10(4):216-29.
Cartwright C, Steinberg M, Williams G, Najman J, Williams Ga. Issues of Death and Dying: The Perspective of Critical Care Nurses. Aust Crit Care. 1997;10:81-7.
Puntillo KA, McAdam JL. Communication Between Physicians and Nurses as a Target for Improving End-of-Life Care in the Intensive Care Unit: Challenges and Opportunities for Moving
Forward. Crit Care Med. 2006;34:S332-40.
Pronovost P, Berenholtz S, Dorman T, Lipsett PA, Simmonds T, Haraden C. Improving communication in the ICU using daily goals. J Crit Care. 2003;18(2):71-5.
Boyle DK, Kochinda C. Enhancing Collaborative Communication of Nurse and Physician Leadership in Two Intensive Care Units. J Nurs Admin. 2004;34:60-70.
Lilly CM, De Meo DL, Sonna LA, Haley KJ, Massaro AF, Wallace RF, et al. An Intensive Communication Intervention for the Critically Ill. Am J Med. 2000;109:469-75.
Byock I. Improving Palliative Care in Intensive Care Units: Identifying Strategies and Interventions that Work. Crit Care Med. 2006;34:S302-5.
Ferris FD. Palliative Care Within the Experience of Illness, Bereavement, and Risk. Palliative Care Standards/Outcomes, San Diego, CA: San Diego Hospice; 2005.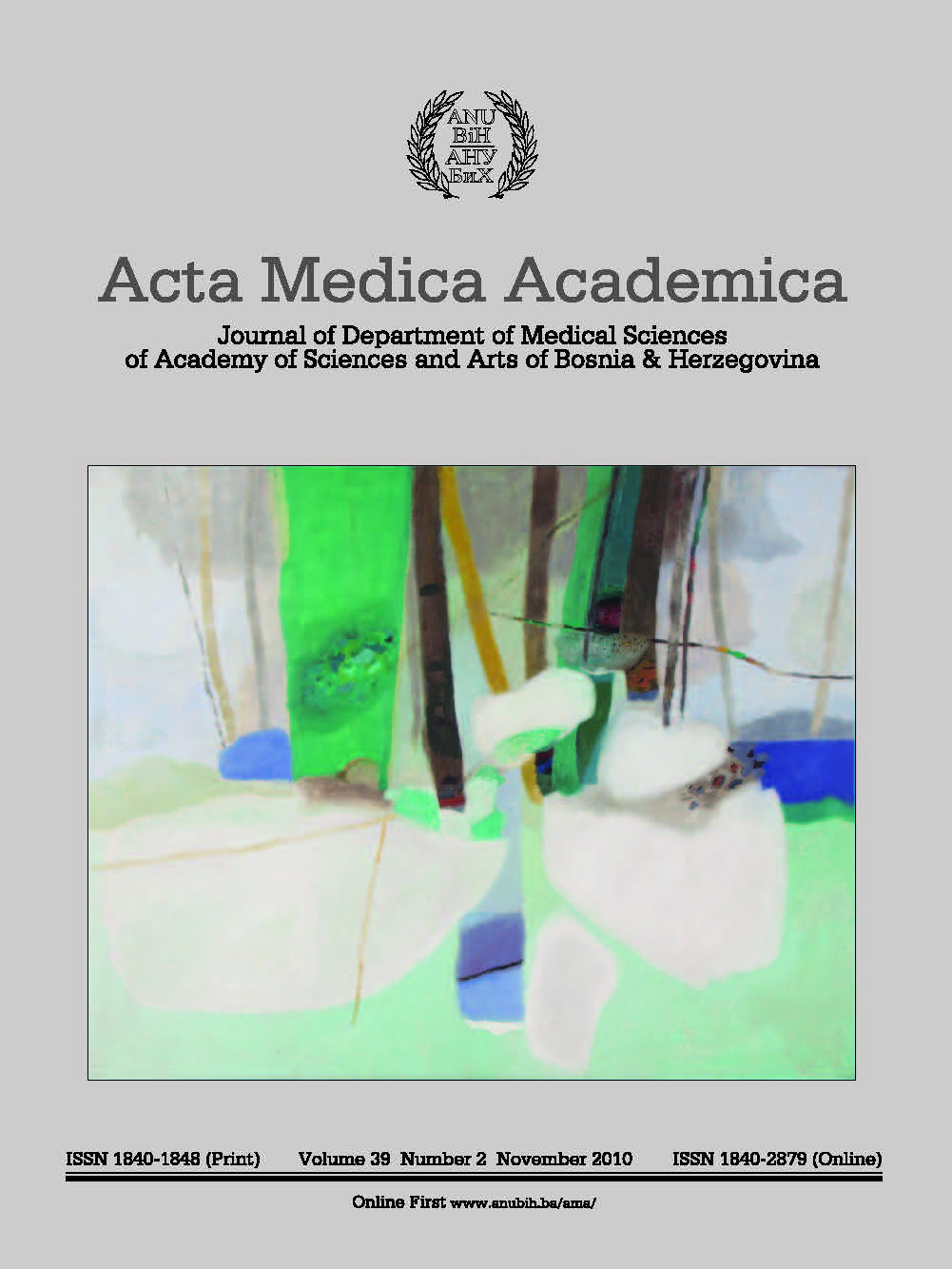 Downloads
How to Cite
Festic, E., Grewal, R., Rabatin, J. T., Divertie, G. D., Shannon, R. P., & Johnson, M. M. (2010). End-of-life care in the intensive care unit: the perceived barriers, supports, and changes needed. Acta Medica Academica, 39(2), 150–158. Retrieved from https://ama.ba/index.php/ama/article/view/85