COVID-19 and Care for the Elderly in Long-Term Care Facilities: The Role of Information Communication Technology
Keywords:
COVID-19, Information Technology, Elderly, Long Term Care Facility, Communication
Abstract
Objective. To review the changes in communication in long-term care facilities (LTCF) during the COVID-19 pandemic.
Methods. A systematic literature review was conducted through a keyword search of the PubMed and Ovid Embase databases. In accordance with the inclusion and exclusion criteria, 11 articles were selected and analysed qualitatively.
Results. The use of information communication technology was heterogeneous, and it was used to bring together several different groups of users: LCTF residents' families, hospitals, specialists, and general practitioners. The modes of communication and preferred ways to reduce the social isolation of LTCF residents from their family members were described. Various smartphone applications have been designed for both socializing and the use of telemedical solutions. Opportunities for peer-to-peer social interaction between the elderly through information communication technologies have been neglected.
Conclusion. Video calls may bring greater satisfaction to residents and their families. Telemedicine and interdisciplinary cooperation between healthcare professionals have increased the quality of medical care in long-term care institutions during the COVID-19 pandemic.
Downloads
Download data is not yet available.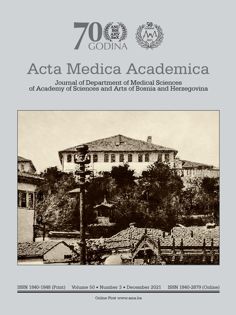 Downloads
How to Cite
Robič, M., & Rotar Pavlič, D. (2022). COVID-19 and Care for the Elderly in Long-Term Care Facilities: The Role of Information Communication Technology. Acta Medica Academica, 50(3), 414–422. https://doi.org/10.5644/ama2006-124.363
Section
Primary Health Care