Jadwiga Olszewska: A Woman Pioneer in Medicine in Serbia and Bosnia and Herzegovina
Keywords:
Official Female Doctors, Jadwiga Olszewska, Tuzla, Bosnia and Herzegovina
Abstract
This article describes the life and medical activities of Jadwiga Olszewska (1855–1932) in Serbia from 1895–1899, Austro- Hungarian (AH)-occupied and annexed Bosnia and Herzegovina (BH) from 1899–1918, and the newly founded Kingdom of Yugoslavia, from 1919–1932. In summer 1899, Olszewska replaced Teodora Krajewska as an AH official female physician in Tuzla. Born in Congress Poland, Olszewska had enrolled in 1873 in the medical courses for women in St. Petersburg but had left Russia in 1880 to study medicine in France. She had lived as a student and single parent in Paris since 1883, and she was awarded her Doctorate in Medicine from the University of Paris in 1894. She could not practice medicine in Russian-occupied Poland because of her French diploma, and she could not practice in most Western countries due to her gender. Therefore, she decided to move to Serbia, where she worked as an assistant physician in the district hospitals of Loznica (1895–1897?) and Požarevac (1897–1899). Driven by the need for a higher income to fund her son's education, she engaged her network of Polish compatriots and procured the position of an AH official female physician of Tuzla in 1899, where she performed her duties in an exemplary manner. After the breakdown of the Austro-Hungarian Empire (AHE) in 1918, Olszewska remained in Tuzla and retired as a Yugoslav official physician in 1923. When she died in Tuzla in 1932, local colleagues had to arrange for a proper fu- neral because Olszewska did not leave any savings due to her insufficient pension. Olszewska's grave never received a tombstone, and it is untraceable today.
Conclusion. Jadwiga Olszewska (1855–1932) was a woman pioneer of medicine from Poland, who practiced her profession first as an assistant physician in Serbia (1895–1899) and then as an AH and Yugoslavian official female doctor in Tuzla, BH (1899–1923).
Downloads
Download data is not yet available.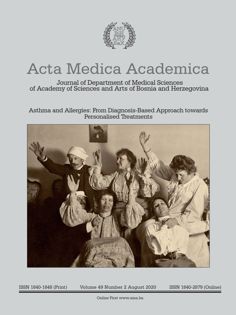 Downloads
How to Cite
Tahirović, H., & Fuchs, B. (2020). Jadwiga Olszewska: A Woman Pioneer in Medicine in Serbia and Bosnia and Herzegovina. Acta Medica Academica, 49(2), 207–216. https://doi.org/10.5644/ama2006-124.299
Section
Historical Articles