Thyroid calcification: radiographic patterns and histological significance
Keywords:
Cervicothoracic radiograph, Goiters, Thyroid calcification, Thyroidectomy, Thyroid histology
Abstract
Background. Calcification of the thyroid gland may occur inboth benign and malignant thyroid diseases. Aim. To determinethe incidence, significance and plain radiographic patternsin goiters with calcification. Materials and Methods.Radiographs (chests, thoracic inlets and neck) and clinicalrecords of 160 goiterous patients were reviewed retrospectively,and classified into two groups; those with calcificationand those without calcification. Data analysis was by SPSS11.0. Results. The majority of our patients (64.9 %) were intheir 4th to 6th decade of life with modal age of 30 years. Theratio of males to females was 3: 17. Radiographic calcificationwas demonstrable in 17.0% (male 22.2% and female 77.8%)and this increased steadily by about three–fold per decadeof life from 3rd–5th decade. All patients with calcification hadtracheal narrowing, higher occurrence of cervical degenerationand 3–fold incidence of retrosternal extension of goitres.However, only four out of thirteen patients (14.8%) with malignanthistology had calcification, while the remaining ninepatients had no calcification. Subtotal thyroidectomy was offeredin 89.3% of patients with calcification. Conclusion. Calcificationof goitre increases steadily with advancing age andis more common in multinodular than solitary thyroid nodules.However, it does not suggest benignity or malignancy ofthe thyroid mass. There is high propensity of calcification ingoitres having retrosternal extension and a strong tendencyfor concentric tracheal narrowing in calcified goitres. Hence,this may make the need for early thyroidectomy imperative.
Downloads
Download data is not yet available.
References
Segal RL, Zuckerman H, Friedman EW. Soft tissue roentgenography: its use in diagnosis of thyroid carcinoma. J Am Med Assoc. 1960;173:1890-94.
Erazo ST, Wahner HW. Roentgenographic diagnosis of thyroid cancer in the presence of endemic goiter. AJR Am J Roentgenol. 1966;96:596-603.
Margolin FR, Steinbach HL. Soft tissue roentgenography of thyroid nodules. AJR Am J Roentgenol. 1968;102:844-52.
Park C.H, Rothermel F J, Judge DM. Unusual calcifications in mixed papillary and follicular carcinoma of the thyroid gland. Radiology. 1976;119:554.
Kakkos SK, Scopa CD, Chalmoukis AK, Karachalios DA, Spiliotis JD, Harkoftakis JG. Relative risk of cancer in sonographically detected thyroid nodules with calcifications. Clin Ultrasound. 2000;28:347-52.
Khoo ML, Asa SL, Witterick IJ, Freeman JL. Thyroid calcification and its association with thyroid carcinoma. Head Neck. 2002; 24: 651-5.
Taki S, Terahata S, Yamashita R, Kinuya K, Nobata
K, Kakuda K. Thyroid calcifications: sonographic patterns and incidence of cancer. Clin Imaging. 2004; 28:368-71.
Kim EK, Park CS, Chung WY, Oh KK, Kim DI, Lee JT et al. New sonographic criteria for recommending fine-needle aspiration biopsy of nonpalpable solid nodules of the thyroid. AJR Am J
Roentgenol. 2002;178(3):687-91.
Kim MJ, Kim E, Kwak JY, Park CS, Chung WY, Nam K, et al. Differentiation of Thyroid Nodules With Macrocalcifications: Role of Suspicious Sonographic Findings. J Ultrasound Med. 2008; 27:1179-84.
Yoon DY, Lee JW, Chang SK, Choi CS, Yun EJ, Seo YL et al.. Peripheral calcification in thyroid nodules: ultrasonographic features and prediction of malignancy. J Ultrasound Med. 2007;26(10):1349-55.
Yuzbasioglu MF, Ozkaya M, Ezberci F, Senoglu N, Kizildag B. Eggshell calcification after intrathyroidal hemorrhage of retrosternal thyroid. Cases J. 2008 25;(1):11.
Komolafe F. Radiological patterns and significance of thyroid calcification. Clin Radiol. 1981;32:571-5.
Olurin EO, Timeyin ED, Adenuga MO. Thyroid gland diseases in Ibadan – A review. West Afr J Med. 1986;5:147-55.
Adeniji KA, Anjorin AS, Ogunsulire IA. Histological Pattern of Thyroid Diseases In A Nigerian Population. Nig Quart J of Hosp Med. 1998;8:241-4.
Consorti F, Benvenuti C, Boncompagni A, Giovannone G, Moles N, Scardella L. Clinical significance of thyroid nodule calcification. G Chir. 2003; 24 (3):78-81.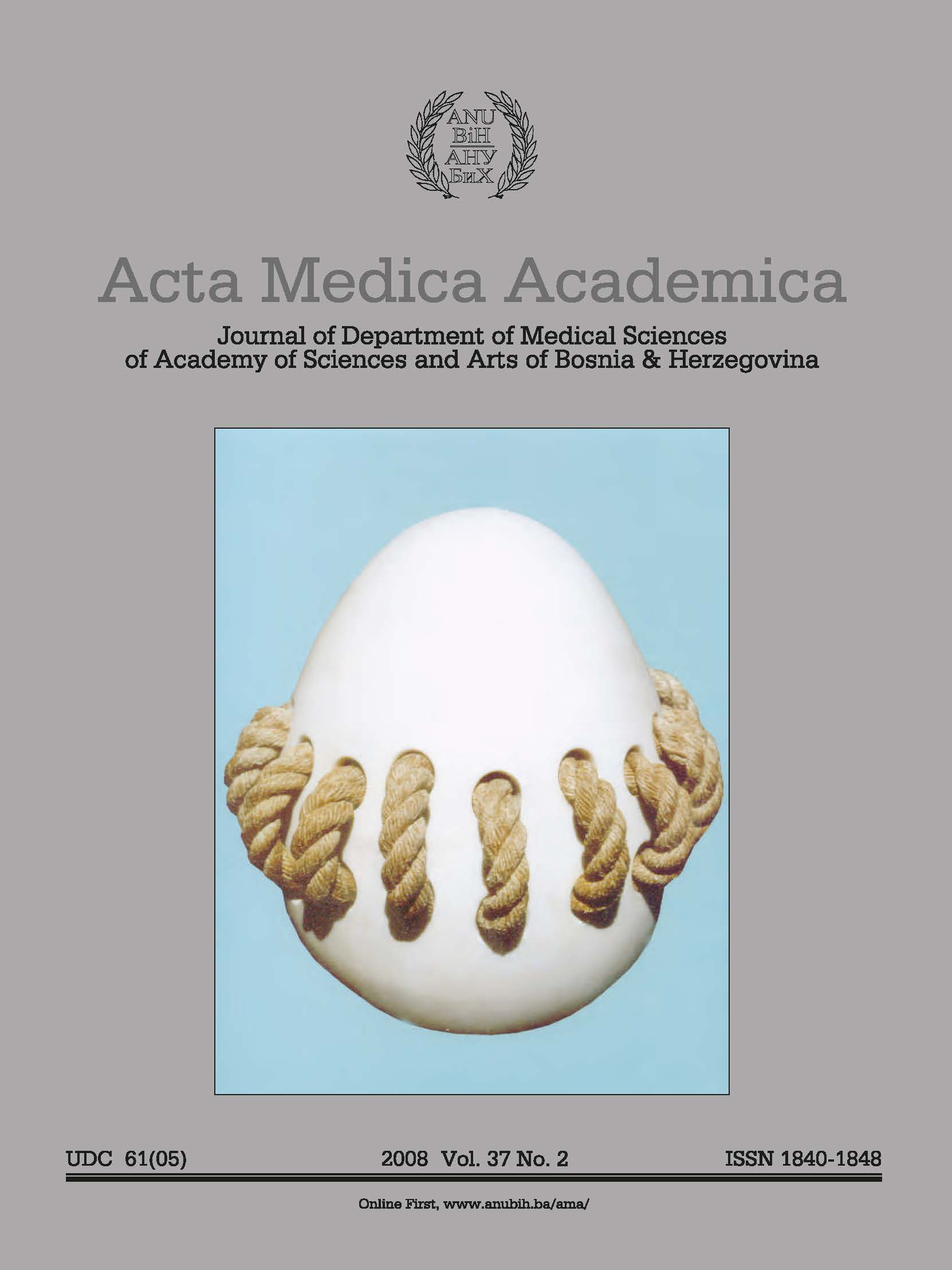 Downloads
How to Cite
Rahman, G. A., Abdulkadir, A. Y., & Braimoh, K. T. (2008). Thyroid calcification: radiographic patterns and histological significance. Acta Medica Academica, 37(2), 99–105. Retrieved from https://ama.ba/index.php/ama/article/view/56