Case presentation – thyroid lymphoma
Keywords:
Thyroid, Lymphoma, Malignant tumor
Abstract
Malignant tumors of the thyroid gland account for about 1% of thenewly diagnosed malignant tumors each year, and their incidence inwomen is twice the incidence in men. According to the WHO classification (2004) thyroid tumors are divided into: carcinoma of the thyroid,adenoma and similar tumors, and other thyroid tumors whichinclude: teratomas, angiosarcomas, paragangliomas and others, as wellas primary lymphomas and plasmacytomas. Primary thyroid lymphomasare defi ned as lymphomas which originate in the thyroid gland.Th is study presents the case of a 68-year-old patient with a thyroidlymphoma, which caused compression of the airways. In the patientpresented there was reduced activity of the thyroid gland. Th e dominantsymptoms were: breathing diffi culties, hoarse voice and the enlargementof the thyroid. An ultrasound examination was performedbefore surgery on the neck, which showed a multinodular thyroid,with compromised and compressed trachea to the right and rear. Anemergency surgical procedure was performed to reduce the tumor.Pathohistological diagnosis confi rmed diff use large B cell lymphoma.Th e aim of the study was to present a patient with a thyroid lymphoma,who had previously not had any immunological changes to the gland,that is, she had not had any chronic lymphocyte thyroiditis, but due tothe compressive syndrome it was necessary to perform an emergencysurgical procedure to reduce the tumor.
Downloads
Download data is not yet available.
References
Ruiz Allison AG, Vassilpoulou-Sellin R. Endocrine Malignancies. In: Pazdur R, editor. Medical Oncology a Comprehensive Review. New York: PRR Huntington; 1993. p. 349-58.
Jameson JL, Weetman AP. Disorders of the Thyroid gland. In: Braunwld E et al. editor. Harrison´s Principles of Internal Medicine. New York: Mc-Graw-Hill; 2001. p. 2060-84.
DeLellis RA, Lloyd RV, Heitz PU, Eng C. World Health Organisation Classifi cation of Tumors. Tumours of Endocrine Organs. France: IARC Press; 2004.
Belal AA, Allan A, Kandal A, et al. Primary thyroid lymphoma: a retrospective analisis of prognostic factors and treatment outcome for localized intermediate and high grade lymphoma. Am J Clin Oncolo. 2001;24(3):299-305.
Kocjan G (ed). Th yroid. In: Clinical Cytopathology of the Head and Neck. London: Greenwich Medical Media; 2001. pp. 99-105.
Lerma E, Arguelles R, Rigla M, Otal C, Cubero JM, Bagué S, Carreras AM, et al. Comparative findings of lymphocytic thyroiditis and thyroid lymphoma. Acta Cytol. 2003;47(4):575-80.
Tupchong L, Hughes F, Harmer CL. Primary lymphoma of the thyroid: clinical features, prognostic factors, and results of treatment. Int J Radiat Oncol Biol Phys. 1986;12(10):1813-21.
Detweiler RE, Katz RL, Alapat C, el-Naggar A, Ordonez N. Malignant lymphoma of the thyroid: a report of two cases diagnosed by fi ne-needle aspiration. Diagn Cytopathol. 1991;7(2):163-71.
Graff-Baker A, Sosa JA, Roman SA. Primary thyroid lymphoma: a review of recent developments in diagnosis and histology-driven treatment. Curr Opin Oncol. 2010;22(1):17-22.
Kebapcilar L, Alacacioglu I, Comlekci A, Ozcan MA, Piskin O, Kargi A, et al. Primary thyroid lymphoma: case series with literature review. J BUON. 2009;14(2):295-9.
Cha C, Chen H, Westra WH, Udelsman R. Primary thyroid lymphoma: can the diagnosis be made solely by fine-needle aspiration? Ann Surg Oncol. 2002; 9(3):298-302.
Takashima S, Takayama F, Saito A, Wang Q, Hidaka K, Sone S. Primary thyroid lymphoma: diagnosis of immunoglobulin heavy chain gene rearrangement with polymerase chain reaction in ultrasound-guided fine-needle aspiration. Thyroid. 2000;10(6):507-10.
Doria R, Jekel JF, Cooper DL. Th yroid lymphoma. The case for combined modality therapy. Cancer. 1994;73(1):200-6.
Akcali Z, Sakalli H, Noyan Z, Kayaselcuk F, Ozyilkan O. Primary thyroid lymphoma: report of two cases. East Afr Med J. 2004; 81(7):378-80.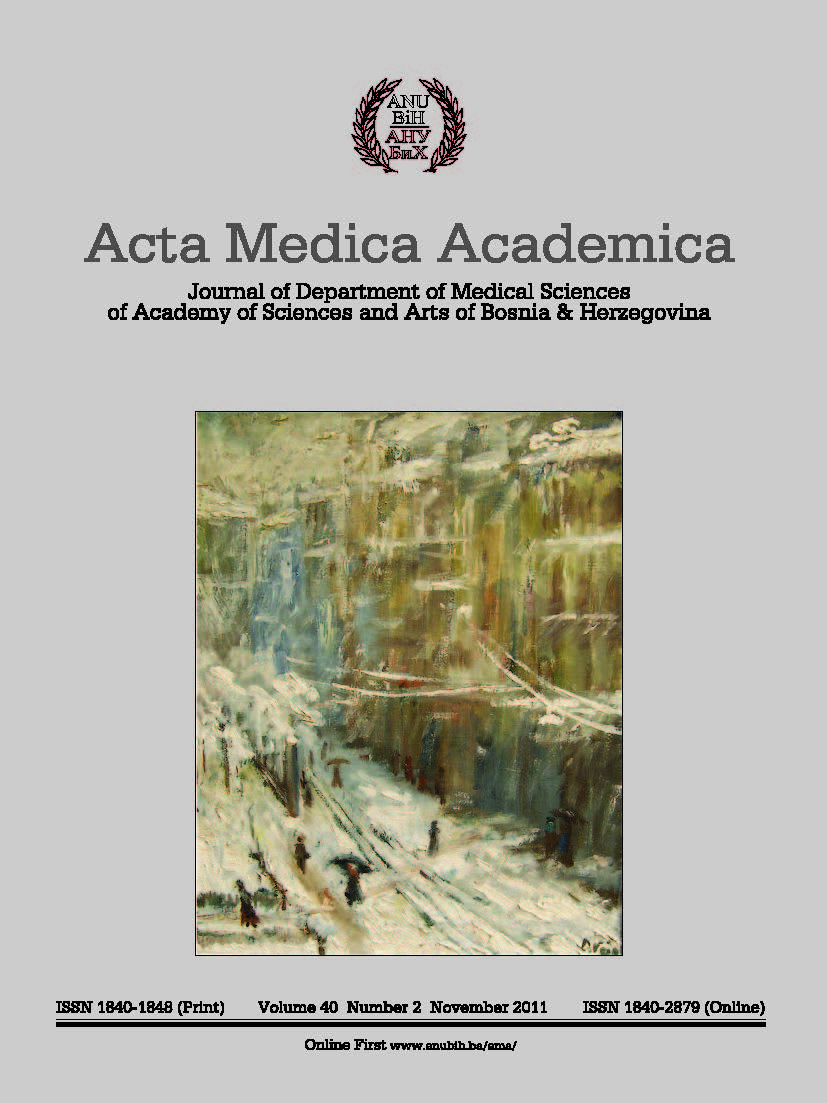 Downloads
How to Cite
Izić, B., Čičkušić, A., Izić, S., Kuljaninović, M., & Umihanić, Šekib. (2011). Case presentation – thyroid lymphoma. Acta Medica Academica, 40(2), 182–186. Retrieved from https://ama.ba/index.php/ama/article/view/118