Placental alkaline phosphatase in the prediction of preterm delivery
Keywords:
Preterm labour, Placental alkaline phosphatase, Prediction
Abstract
Objective. To examine the reliability of human placentalalkaline phosphatase (hPlAP) in the mother's serum as amarker of premature labour among pregnant women whohad no known risks for premature labour and to determinethe critical value of hPlAP in pregnancies which ended upas a premature labour. Patients and Methods. The researchwas conducted in the form of a prospective study of 200 pregnantwomen. All the pregnant women were divided into twogroups, the examinees and the control group. The value ofhPlAP in serum of all pregnant women determined in theperiod from week 20 to 24 of gestation. > 2 median valuewas taken as a critical value for hPlAP . Besides descriptivestatistical methods for the statistical data processing we usedthe χ² test, student t-test, Fishers test and Mann-Withneystest, logistic regression. Results. The number of prematurelabours in the examined group was 17 (11.3%), in the controlgroup 22 (44%). The probability of premature labour is6.1 times higher in the control group in relation to the examinedgroup. The mean value of hPlAP in the examinedgroup was 608.2 but in the control group 1115.6. The meanvalue of hPlAP in the pregnant women who gave birth prematurelywas 1195 but in those who gave birth on time 632.2.There was a statistical significant difference in mean values ofhPlAP. Conclusios. hPlAP can be used as a reliable markerof idiopathic premature labour. hPlAP values connected withthe development of premature labour is 990 mU/l.
Downloads
Download data is not yet available.
References
Skrablin S. Preterm delivery-what is that? Postgraduate course of permanently medical improvement first category. Zagreb: Sveučilište u Zagrebu, Medicinski fakultet; 2003.
Bittar RE, Yamasaki AA, Sasaki S, Zugaib M. Cervical fetal fibronectin in patients at increased risk for preterm delivery. Am J Obstet Gynecol. 1996;175:178-81.
To MS, Alfirević Ž, Heath VC. Cervical cerclage for prevention of preterm delivery in women with short cervix: randomised controlled trial. Lancet. 2004;363:1849-53.
Hinson ER, Cresswell P. The N-terminal amphipathic alpha-helix of viperin mediates localization to the cytosolic face of the endoplasmic reticulum and inhibits protein secretion. J Biol Chem. 2009;284:4705-12.
Leitner K, Szlauer R, Ellinger I, Ellinger A, Zimmer KP, Fuchs R. Placental alkaline phosphatase expression at the apical and basal plasma membrane in term villous trophoblasts. J Histochem Cytochem. 2001;49:1155-64.
Mayer RE, Thompson SJ, Addy CL, Garrison CZ, Best RG, Maternal serum placental alkaline phosphatase level and risk for preterm delivery. Am J Obstet Gynecol. 1995;173:181-6.
Meyer RE, Shirley JT, Addy CL, Garrison RG. Maternal serum placental alkaline phosphatase level and risk for preterm delivery. Am J Obstet Gynecol. 1995;173:181-6.
Dražančić A. Perinatal mortality in Republic of Croatia in 2003. Gynaecol Perinatol. 2004;13 (Suppl 3):1-18.
Best RG, Meyer RE, Schipley CF. Maternal serum alkaline phosphatase as a marker for low birth weight: results of pilot study. South Med J. 1991;84:740-2.
Laros RK. Fertilization; development, physiology and disorders of fetal development. In: Wilson JR, Carrington ER, editors. Obstetrics and Gynecology. St. Louis: Mosby Year Book; 1991. p. 142-71.
Davis RO, Goldenberg RL, Boots L. Elevated levels of midtrimester maternal serum alpha-fetoprotein are associated with preterm delivery but not with fetal growth retardation. Am J Obstet Gynecol. 1992;167:596-601.
Onwuameze IC, Onwubere BJ, Ezeoke AC. Serum feat-stabile alkaline phosphatase activity in normal pregnancy. East Afr Med J. 1999;76(6):341-3.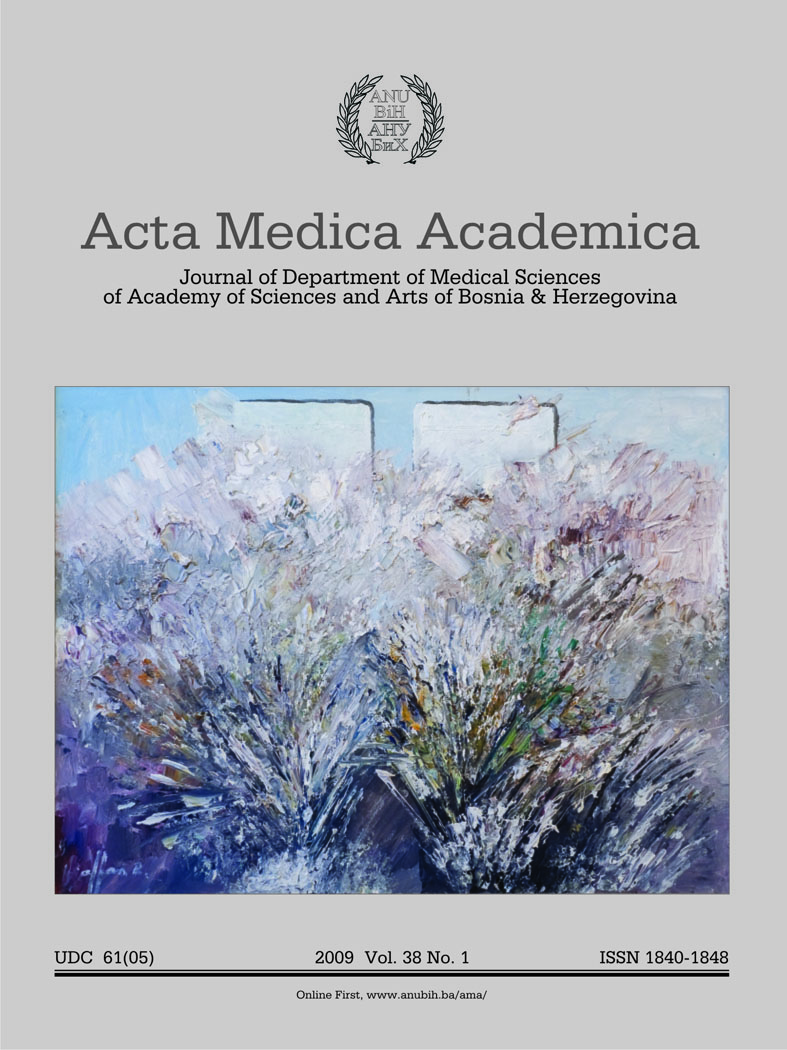 Downloads
How to Cite
Grgić, G., & Bogdanović, G. (2009). Placental alkaline phosphatase in the prediction of preterm delivery. Acta Medica Academica, 38(1), 16–20. Retrieved from https://ama.ba/index.php/ama/article/view/51