Gender differences in lifestyle components among patients with coronary heart disease
Keywords:
Lifestyle, Components, Coronary heart disease
Abstract
Numerous studies had shown that lifestyle modifications canreduce the risk for subsequent coronary events or death in patientswith pre-exiting coronary heart disease (CHD). Stoppingsmoking, regular physical activity and making healthyfood choices are an integral part of total risk management inpatients with CHD. We evaluated gender differences in lifestylecomponents of secondary prevention for CHD (smokingstatus, physical activity and dietary fat intake) in patientswith established CHD. This prospective trial included 130randomly selected patients from Family Medicine TeachingCenter Tuzla (66 men and 64 women), aged 40-80 years,with established CHD. We determined smoking status in allparticipants and assessed dietary fat intake by using modifiedDietary Intake Nutrition Evaluation method (DINE). We assessedintensity of physical activity in all participants by usingBorg scale for perceived exertion. Mean age of participantswas 64.9 ± 7.8 years; 28/130 patients were daily smokers(22%), while 60/130 patients were ex-smokers (46%). Morethan one third of patients had never smoked (32%), with significantlymore women than men (p = 0.003). Mean dietaryfat intake was 35.4 ± 6.0 g/day; 59/130 patients self-reportedregular physical activity (45%). Mean intensity of physical activitywas 9.3 ± 1.6 and significantly higher in men than inwomen (p = 0.002). Results of this study showed unhealthylifestyles in patients with coronary heart disease that indicatesthe need for more effective intervention by primary careteams to change behavior and modify lifestyles in order toreduce risk for recurrent coronary events.
Downloads
Download data is not yet available.
References
Anonymous. World Health Organization. The World Health Report 2002: Reducing Risks, Promoting Healthy Life. World Health Organization. 2002.
Čerkez F. Epidemiologija kardiovaskularnih bolesti. In: Raljević E, Dilić M, Čerkez F (ur). Prevencija kardiovaskularnih bolesti. Sarajevo: Udruženje kardiologa i angiologa Bosne i Hercegovine. 2003;26-28.
Ornish D, Brown SE, Scherwit LW, Billings JH., Armstrong WT, Ports TA., et al. Can lifestyle changes reverse coronary heart disease? The lifestyle heart trial. Lancet. 1990;336:129-33.
Burr ML, Fehily AM, Gilbert JF, Rogers S, Holliday RM, Sweetnam PM, et al. Effects of changes in fat, fish, and fiber intakes on death and myocardial reinfarction: diet and reinfarction trial (DART). Lancet. 1989;757-61.
De Lorgeril M, Salen P, Martin JL, Monjaud I, Delaye J, Mamelle N, et al. Mediterranean diet, traditional risk factors, and the rate of cardiovascular complications after myocardial infarction: final report of the Lyon Diet Heart Study. Circulation. 1999;99:779-85.
Blair SN, Kohl HW, Barlow CE, Paffenberger RS Jr, Gibbons LW, Macera CA. Changes in physical fitness and all-cause mortality. A prospective study of healthy and unhealthy men. JAMA. 1995;273:1093-98.
Sesso H, Ralph S, Paffenbarger Jr, I-Min L. Physical Activity and Coronary Heart Disease in Men. The Harvard Alumni Health Study. Circulation. 2000;102:975-80.
Pate RR, Pratt M, Blair SN, Haskell WL, Macera CA, Bouchard C, et al. Physical activity and public health: a recommendation from the Centers for Disease Control and Prevention and the American College of Sports Medicine. JAMA. 1995;273:402-07.
EUROASPIRE II Study Group. Lifestyle and risk factor management and use of drug therapies in coronary patients from 15 countries; principal results from EUROASPIRE II Euro Heart Survey Programme. Eur Heart J. 2001;22(7):526-28.
Murchie P, Campbell NC, Ritchie LD, Simpson JA, Thain J. Secondary prevention clinics for coronary heart disease: four year follow up of a randomized controlled trial in primary care. BMJ. 2003;326(7380):84-87.
Anonymous. Third Joint Task Force of European and other Societies of Cardiovascular Disease Prevention in Clinical Practice. European guidelines on cardiovascular disease prevention in clinical practice. Eur Heart J. 2003;24:1601-10.
Anonymous. Standard Questions on the Use of Tobacco Among Adults. Australian Institute of Health and Welfare (AIHW). 1998.
Roe L, Strong C, Whiteside C, Neil A, Mant D. Dietary intervention in primary care: validity of the DINE method for diet assessment. Fam Pract. 1994;11:375-81.
Borg GA. psychophysical bases of perceived exertion. Med Sci Sports Exerc.1982; 14:377-81.
Wilson K, Gibson N, Willan A, Cook D. Effect of smoking cessation on mortality after myocardial infarction: meta-analysis of cohort studies. Arch Int Med. 2000;160:939-44.
Leren P. The Oslo Diet-Heart Study: eleven-year report. Circulation. 1970; 42:935-42.
Anonymous. The American Heart Association Guidelines for Preventing Cardiovascular Disease in Women. 2007; available on http://www.americanheart.org/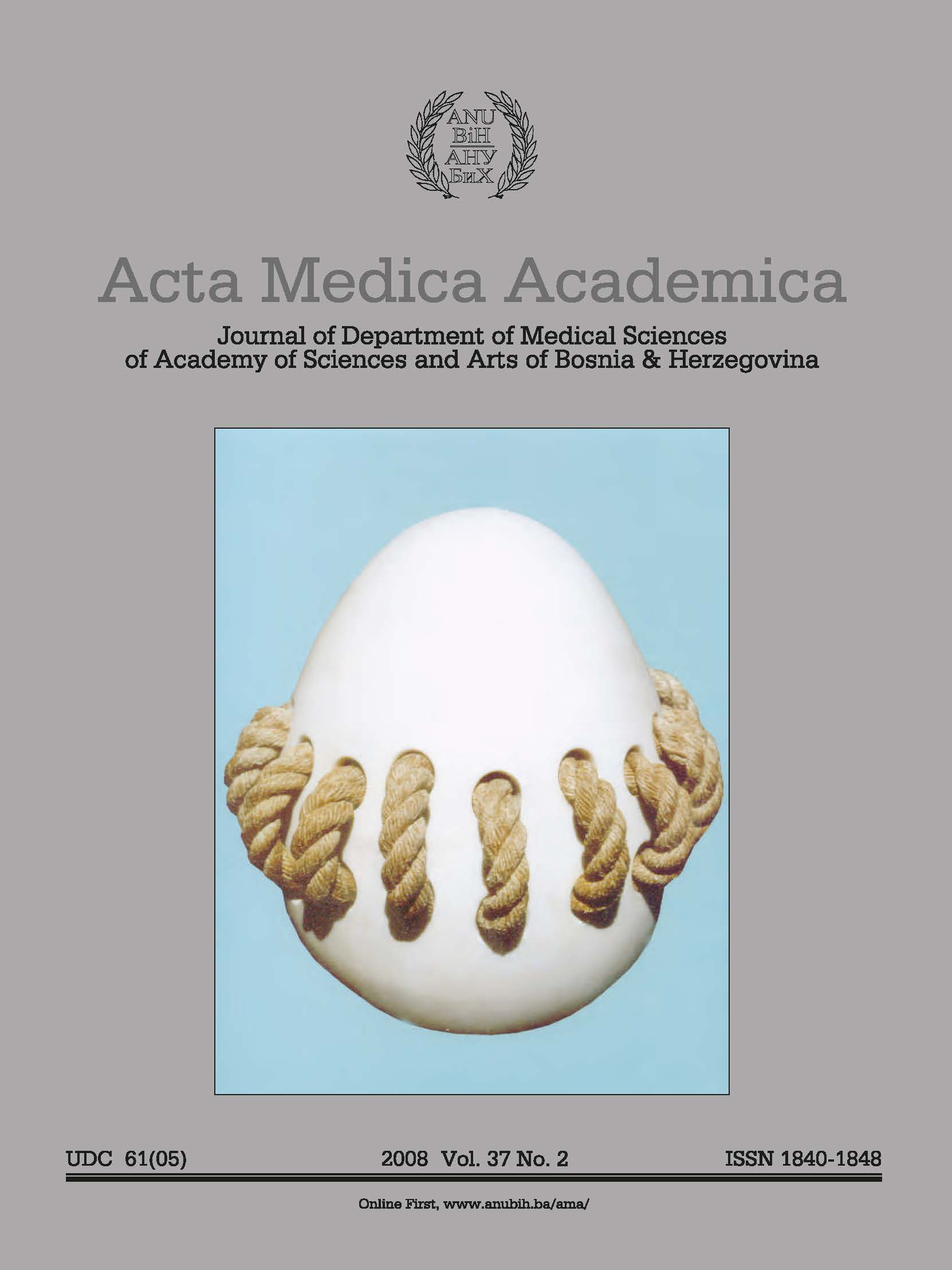 Downloads
How to Cite
Batić-Mujanović, O., Gavran, L., Hasanagić, M., & Černi, E. (2008). Gender differences in lifestyle components among patients with coronary heart disease. Acta Medica Academica, 37(2), 79–85. Retrieved from https://ama.ba/index.php/ama/article/view/46