Neuroenhancing Substances Use, Exam Anxiety and Academic Performance in Bosnian-Herzegovinian FirstYear University Students
Keywords:
Performance-Enhancing Substances, Lifestyle Drugs, Psycostimulants, Anxiety, Academic Performance
Abstract
Objective. The aim of this study was to assess the re­lationship between the use of neuroenhancing sub­stances, exam anxiety and academic performance among first-year Bosnian-Herzegovinian (BH) uni­versity students.
Methods. In a cross-sectional study, an ad hoc questionnaire was delivered to a sample of BH first-year university students. The following data were collected: socio-demographic features, con­sumption of neuroenchancing substances, the West­side Test Anxiety Scale (WTAS) and academic perfor­mance.
Results. A total of 214 students were included. Consumption of lifestyle substances, coffee, energy drinks, nicotine, alcohol, and marijuana, for the pur­pose of neuroenhancement increased during the week before the exams. OTC cognitive enhancer use was reported by 31.0%, and of benzodiazepines by 1.5% of students. No psycostimulants were used. A high to extremely high exam WTAS score was reported in 38.3% students. The exam WTAS score was positively correlated with consumption of coffee (rho=0.31; P<0.001), energy drinks (rho=0.18; P=0.009), and nic­otine (rho=0.22; P=0.001), and negatively correlated with last exam grade (rho=-0.33; P<0.001). The exam WTAS score was a significant independent predictor (OR=0.55; 95% CI 0.31 to 0.97, P=0.039) for self-as­sessed academic performance. Self-assessed academic performance was positively correlated with last exam grade (rho=0.15; P=0.043).
Conclusions. Although first-year BH university students do not seem to use either prescription or illicit psycostimulants, the con­sumption of nicotine, alcohol, and marijuana is wor­rying. However, the consumption of these neuroen­hancing substances seems not to be related to better self-assessed academic performance. Finally, exam anxiety seems to be a significant problem among BH first-year university students.
Downloads
Download data is not yet available.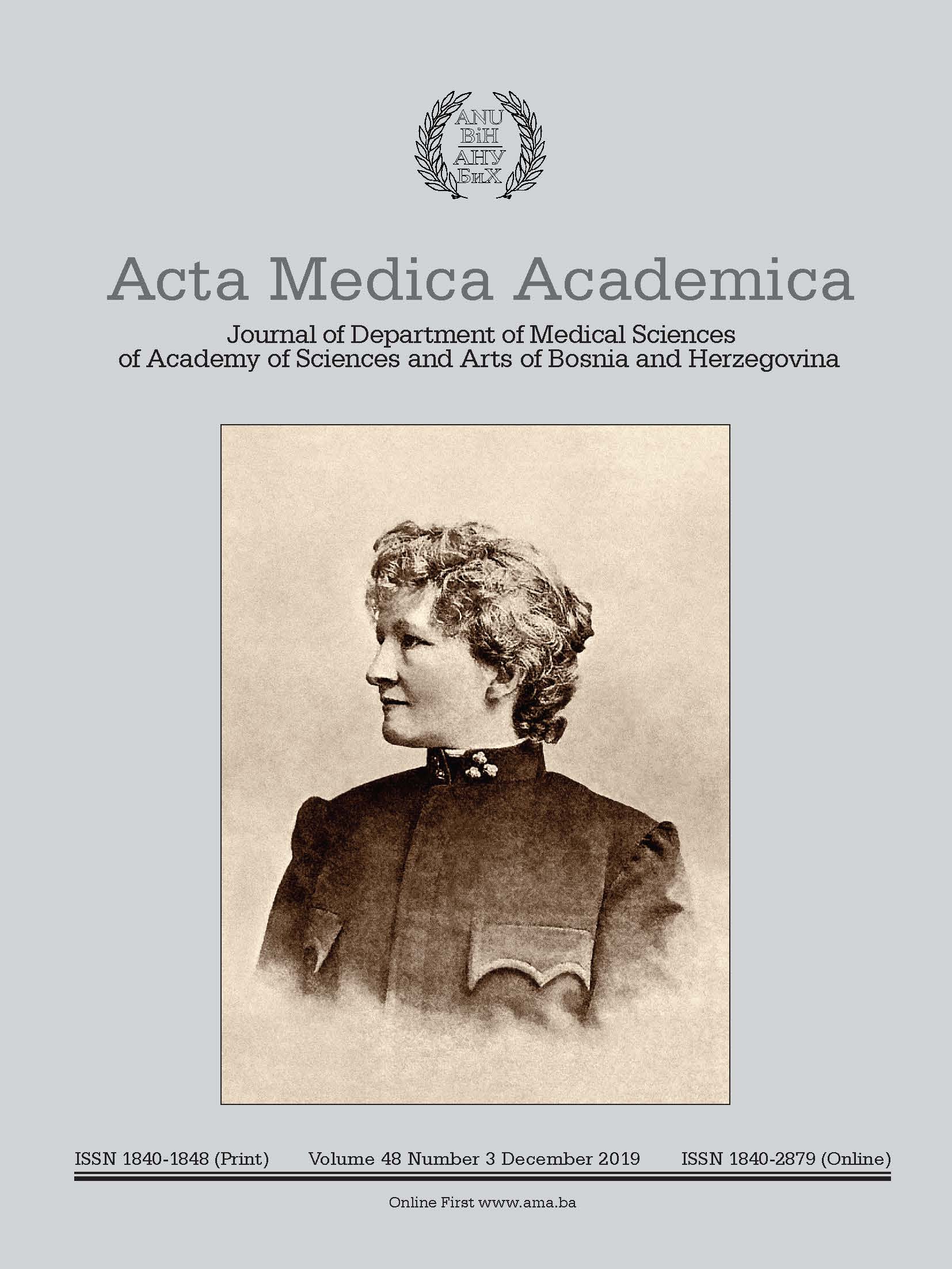 Downloads
How to Cite
Kusturica, J., Hajdarević, A., Nikšić, H., Skopljak, A., Tafi, Z., & Kulo, A. (2020). Neuroenhancing Substances Use, Exam Anxiety and Academic Performance in Bosnian-Herzegovinian FirstYear University Students. Acta Medica Academica, 48(3), 286–293. https://doi.org/10.5644/ama2006-124.269