Antimicrobial Activity of Different Extracts from Rhizome and Root of Potentilla erecta L. Raeuschel and Potentilla alba L. Rosaceae*
Keywords:
Plants, Medicinal, Potentilla, Rosaceae, Anti- Bacterial Agents, Microbial Sensitivity Tests
Abstract
The tested plant material of rhizome with roots of Potentillaerecta (L.) Raeuschel and Potentilla alba L. was collected in2003. Determination of the total phenolics content, non-tanninphenols was conducted by applying the method of Folin-Ciocalteau reagent and proanthocyanidin content by Porter.The method used for determination of the antibiotic activitywas used in accordance with the European Pharmacopoeia(procedure 2.7.2.) on medium A and bacteria Staphylococcusaureus ATCC 6538, Bacillus subtilis ATCC 6633, Escherichiacoli ATCC 8739 and Candida albicans ATCC 10231. The water,ethyl acetate, acetone and ethanol extracts, prepared earlier,were tested. Medium A was used for testing Staphylococcusaureus and Escherichia coli while Medium F was used fortesting Candida albicans.The values obtained after testing phenol compounds (% ondry plant material) are as follows: the value for Potentillaerecta: total phenolics 16.90%, Non-tannin phenolics 0.09%,Proanthocyanidins 2.70% while the value for Potentilla alba:total phenolics 11.74%, Non-tannin phenolics 0.71%, Proanthocyanidins2.73%. The ethanol and acetone extracts havethe antimicrobial effect on Escherichia coli, ethyl acetate extractof rhizome Potentilla erecta, while water extracts of bothtested species in dissolution 1:20 have the antimicrobial effecton Staphylococcus aureus. The tested species have not had anyeffect on Candida albicans fungus.
* Part of the work was presented on the International Congress and 53rd Annual Meeting of the Society forMedicinal Plant Research, August 21st – 25th, 2005 Florence,Italy
Downloads
Download data is not yet available.
References
Grujic Vasic J, Pilipovic S, Softic D, Mehmedagic A. Examination of antimicrobial activity water extract root and rhizoma plant sorts Potentilla speciosa Willd. and Potentilla tommasiniana F. Schultz, Rosaceae. Pharmacia. 2002;13:35-8.
Wild R, editor. The complete book of natural and medicinal cures. Emmaus (Pa): Rodale Press; 1994.
Thomson WAR, editor. Medicines from the Earth. Maidenhead (UK): McGraw-Hill; 1978.
Cowan MM. Plant products as antimicrobial agents. Clin Microbiol Rev. 1999;12(4):564-82.
Köhler FE. Köhler's Medizinal-Pflanzen in naturgetreuen Abbildungen mit kurz erläuterndem Texte: Atlas zur Pharmacopoea germanica. Gera-Untermhaus: FE Köhler; 1883-1914; v. 1. p. 83. [Cited 2006 Dec 25]. Available from: http://www.illustratedgarden.org/mobot/rarebooks/page.asp?relation=QK99A1K6318831914B1&identifier=0406
Jacquin NJ, Scheidl FA, Kaliwoda LJ, Gerold JM. Floræ Austriacæ, sive, Plantarum selectarum in Austriæ archiducatu: sponte crescentium icones, ad vivum coloratæ, et descriptionibus, ac synonymis illustratæ / opera et sumptibus Nicolai Josephi Jacquin. Vienna: Leopoldi Joannis Kaliwoda; 1773-78. v. 2. ill. 115. [Cited 2006 Dec 25]. Available from: http://www.illustratedgarden.org/mobot/rarebooks/page.asp?relation=QK318J231773V2&identifier=0126
European Pharmacopoeia. 5th ed. Strasbourg: Council of Europe; 2004. p. 154-61.
Uhlik B. Određivanje antibiotika i vitamina mikrobiološkim metodama: laboratorijski priručnik. Zagreb: Školska knjiga; 1972. p. 94, 147, 150.
Quantification of tannins in tree foliage: laboratory manual for FAO/IAEA co-coordinated research project on "Use of Nuclear and Related Techniques to Develop Simple Tannin Assay for Predicting and Improving the Safety and Efficiency of Feeding Ruminants on Tanniniferous Tree Foliage". Vienna: IEAE; 2000. p. 4-6.
Porter LJ. Tannins. In: Dey PM, Harbone JB. Methods in plant biochemistry. London: Academic Press; 1989. v. 1. p. 389-419.
Evans WC. Trease and Evans Pharmacognosy. 13th ed. London: Saunders; 1989. p. 40.
Scalbert A. Antimicrobial properties of tannins. Phytochemistry. 1991;30:3875–83.
Akiyama H, Fujii K, Yamasaki O, Oono T, Iwatsuki K. Antibacterial action of several tannins against Staphylococcus aureus. J Antimicrob Chemother. 2001;48(4):487-91.
Zhao WH, Hu ZQ, Hara Y, Shimamura T. Inhibition of penicillinase by epigallocatechin gallate resulting in restoration of antibacterial activity of penicillin against penicillinase producing Staphylococcus aureus. Antimicrob Agents Chemother. 2002;46(7):2266-8.
de Bruyne TD, Pieters L, Deelstra H, Vlietinck A. Condensed vegetable tannins: biodiversity in structure and biological activities. Biochem Syst Col. 1999; 27(4): 445-59.
Smith AH, Imlay JA, Mackie RI. Increasing the oxidative stress response allows Escherichia coli to overcome inhibitory effects of condensed tannins. Appl Environ Microbiol. 003;69(6):3406-11.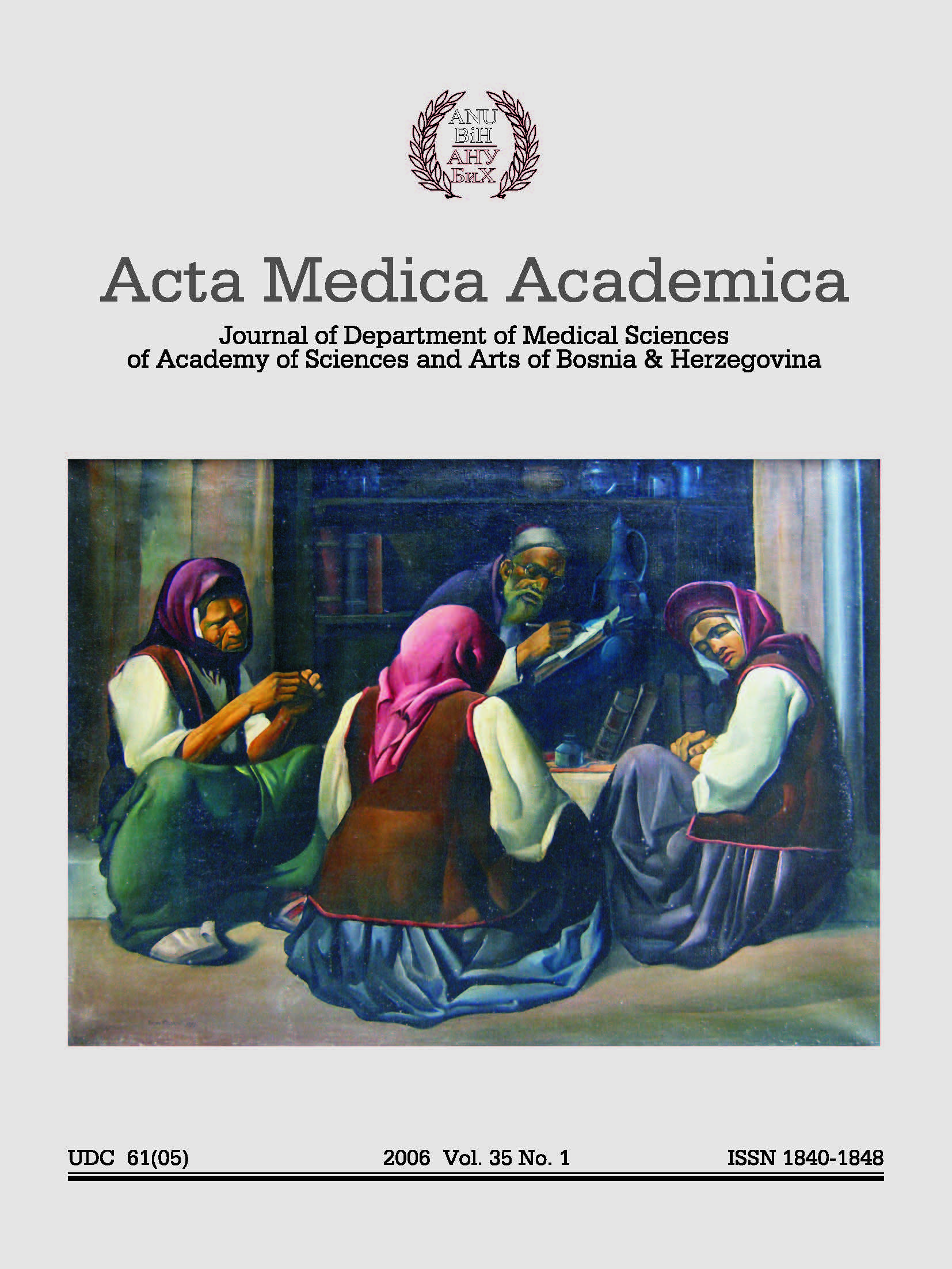 Downloads
How to Cite
Grujić-Vasić, J., Pilipović, S., Bosnić, T., & Redžić, S. (2006). Antimicrobial Activity of Different Extracts from Rhizome and Root of Potentilla erecta L. Raeuschel and Potentilla alba L. Rosaceae*. Acta Medica Academica, 35(1), 19–22. Retrieved from https://ama.ba/index.php/ama/article/view/30