Ichthyosis vulgaris and pycnodysostosis: an unusual occurrence
Keywords:
Pycnodysostosis, Ichthyosis vulgaris, Palmoplantar keratoderma
Abstract
Pycnodysostosis is a rare autosomal recessive disorder whose generesponsible for this phenotype (CTSK), mapped to human chromosome1q21, code for the enzyme cathepsin K, a lysosomal cysteineprotease; with an estimated incidence of 1.7 per 1 million births. Thisclinical entity includes micromelic dwarfism, increased radiologicalbone density, dysplasia of the skull, acro-osteolysis, straightening ofthe mandibular angle and in some cases, dysplasia of the acromial endof the clavicle. Oral and maxillo-facial manifestations of this diseaseare very clear. Herein we reported a case of pycnodysostosis, showingshort stature with widening of the sutures, unfused anterior andposterior fontanelles, crowding of teeth with dental caries and typicalradiological features associated with ichthyosis vulgaris and palmoplantarkeratoderma.

Downloads
Download data is not yet available.
References
Mujawar Q, Naganoor R, Patil H, Thobbi AN, Ukkali S, Malagi N. Pycnodysostosis with unusual findings: a case report. Cases J. 2009; 2:6544.
Fleming KW, Barest G, Sakai O. Dental and facial bone abnormalities in pyknodysostosis: CT findings. AJNR Am J Neuroradiol. 2007;28(1):132-4.
Clark AR. Two cases of pycnodysostosis (the malady of Toulouse-Lautrec). Postgrad Med J. 1969;45(528):684-7.
Maroteaux P, Lamy M. Pyknodysostosis. Presse Med. 1962;70:999-1002.
Smith FJ, Irvine AD, Terron-Kwiatkowski A, Sandilands A, Campbell LE, Zhao Y, et al. Lossof-function mutations in the gene encoding filaggrin cause ichthyosis vulgaris. Nat Genet.
;38(3):337-42.
Elmore SM. Pycnodysostosis: a review. J Bone Joint Surg Am. 1967;49:153-62.
Motyckova G, Fisher DE. Pycnodysostosis: role and regulation of cathepsin K in osteoclast function and human disease. Curr Mol Med. 2002;2(5):407-21.
Gelb BD, Shi GP, Chapman HA, Desnick RJ. Pycnodysostosis, a lysosomal disease caused by cathepsin K deficiency. Science. 1996;273(5279):1236-8.
Chavassieux P, Seeman E, Delmas PD. Insights into material and structural basis of bone fragility from diseases associated with fractures: how determinants of the biomechanical properties of
bone are compromised by disease. Endocr Rev. 2007;28(2):151-64.
Wells RS, Kerr CB. Clinical features of autosomal dominant and sex-linked ichthyosis in an English population. Br Med J. 1966;1(5493):947-50.
Oji V, Traupe H. Ichthyoses: differential diagnosis and molecular genetics. Eur J Dermatol. 2006;16(4):349-59.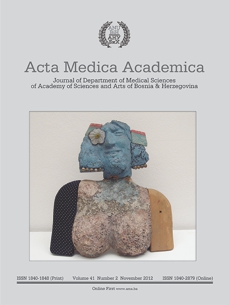 Downloads
How to Cite
Kshirsagar, V. Y., Ahmed, M., Nagarsenkar, S., Sahoo, K., & Shah, K. B. (2012). Ichthyosis vulgaris and pycnodysostosis: an unusual occurrence. Acta Medica Academica, 41(2), 214–218. Retrieved from https://ama.ba/index.php/ama/article/view/154
Section
Case Presentation