Education in family medicine at the University of Mostar School of Medicine
Keywords:
Family medicine, Mostar, Education
Abstract
Department of Family medicine has been formed in academic year2002/2003, few years later after the foundation of the School of MedicineUniversity of Mostar. The formal members of department areprofessor and assistants who lecture and lead seminars. In addition,physicians in rural practices contribute to teaching of family medicine.Clinical teaching of family medicine at Mostar School of Medicine isorganized in the summer semester of sixth year of the study. It lasts sixweeks and contains lectures, seminars and practices. Every student hasright and obligation to evaluate educational process at the end of thecourse in a form of questionnaire and essay. Family medicine continuouslyreceives high marks by students, especially practices. Evaluationof teaching by students is good way of giving feedback about teaching.We believe that student opinion can revise and improve teaching practice.Our good experience and good marks may prompt the changingour educational curriculum to include family medicine at each studyyear of medical program.
Downloads
Download data is not yet available.
References
About faculty [homepage on the internet]. Mostar: Medicine faculty Mostar c2006 (updated 2008 May 20; cited 2011 December 07). Available from: http://www.mefmo.ba/index.php?option=com_content&view=article&id=19&Itemid=27
Specialist Training in General Practice/Family Medicine [homepage on the internet]. Ljubljana: Europeana Academy of Teachers in General Practice/ Family Medicine; c2008 (updated 2011 June 15; cited 2012 January 03) Available from: http://www.euract.eu/resources/specialist-training
Balcans Primary Health Care Policy Project [homepage on the internet]. Banja Luka, c2006 (updated 2007 September 11; cited 2011 December 07). Avaliable from: http://porodicnamedicina.com/site/index.php/Novosti/Projekat-planiranja-primarne-zdravstvene-zastite-na-Balkanu.html
Eastern Europe [homepage on the internet]. Canada: Canadian International Development Agency; c2009 (updated 2011 Juli 19; cited 2011 December 2011). Avaliable from: http://www.acdi-cida.gc.ca/acdi-cida/ACDI-CIDA.nsf/En/JOS-
-R54.
Learning with heart [homepage on the internet]. Split: Medicine faculty Split; c 2009 (updated 2011 Jun 21; cited 2011 December 09). Available from: http://www.mefst.hr/default.aspx?id=1340
Bulc M, Svab I, Radic S, de Sousa JC, Yaphe J. Faculty development for teachers of family medicine in Europe: reflections on 16 years' experience with the international Bled course. Eur J Gen Pract. 2009;15(2):69-73.
Vrcić-Keglević M, Jaksić Z. International course Training of teachers in general/family practice: 20 years of experience. Lijec Vjesn. 2002;124(2):36-9.
Gjerde CL, Coble RJ. Resident and faculty perceptions of effective clinical teaching in family practice. J Fam Pract. 1982;14:32-7.
McGee SR, Irby DM. Teaching in the outpatient clinic. Practical tips. J Gen Intern Med. 1997;12:34-40.
Schultz KW, Kirby J, Delva D, Godwin M, Verma S, Birtwhistle R, et al. Medical Students' and Residents' preferred site characteristics and preceptor behaviours for learning in the ambulatory setting: a cross-sectional survey. BMC Med Educ. 2004; 6:12.
Larsen K, Perkins D. Training doctors in general practices: a review of the literature. Aust J Rural Health 2006; 14: 173-77.
Thistlethwaite JE, Kidd MR, Hudson JN. General practice: a leading provider of medical student education in the 21st century? Med J Aust. 2007; 16:124-8.
Svab I, Petek-Ster M. Long-term evaluation of undergraduate family medicine curriculum in Slovenia. Srp Arh Celok Lek. 2008;136(5-6):274-9.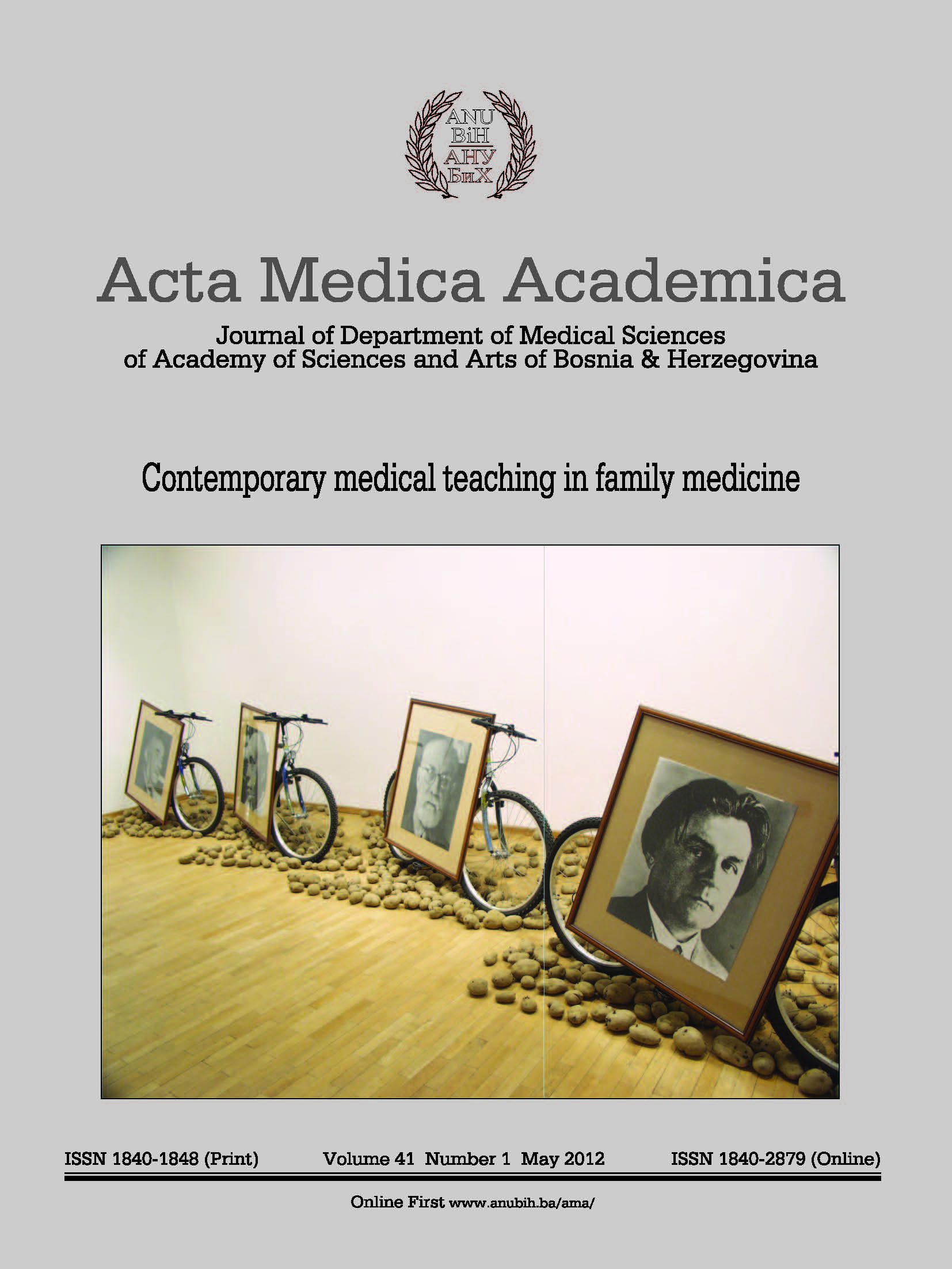 Downloads
How to Cite
Černi Obrdalj, E., Curić, S., Zalihić, A., & Rumboldt, M. (2012). Education in family medicine at the University of Mostar School of Medicine. Acta Medica Academica, 41(1), 64–67. Retrieved from https://ama.ba/index.php/ama/article/view/135
Section
New Models in Family Medicine Education