Acute respiratory distress syndrome in patients with Legionella pneumonia
Keywords:
Pneumonia, Legionella, ARDS
Abstract
Objective. The relationship between specific causative organisms anddevelopment of ARDS in pneumonia patients has not been explored.Several case reports have described the development of ARDS in patientswith Legionella pneumonia. The aim is of this study was to determinefrequency and outcomes of ARDS in patients with LegionellaPneumonia. Methods. A retrospective cohort study of patients withLegionella pneumonia hospitalized at two Mayo Clinic Rochester hospitalswas conducted. To identify the patients with Legionella pneumoniawe searched the Mayo Clinic Life Sciences System (MCLSS)database from 01/01/2003 to 12/31/2007. Electronic medical recordsof patients with active Legionella pneumonia based on positive culturesand/or urinary antigen were reviewed. ARDS was diagnosed onthe basis of the criteria of the North American/European consensusconference definition. Results. We identified 15 patients with microbiologicallyproven Legionella pneumonia of whom 11 were admittedto the intensive care unit (ICU), 6 required mechanical ventilation and5 met the criteria for ARDS. Age (median 42 vs. 50 years, p=0.32)and gender (4/10 vs. 1/5 female, p=0.60) were similar in patients withand without ARDS. Septic shock was present in 4 of the 5 patientswith ARDS and only 1 without. Patients with ARDS had longer ICUlength of stay (median 9 vs. 1 days, P=0.03). Only one patient (fromthe ARDS group) died in the hospital. Conclusion. In this retrospectivestudy ARDS occurred in one third of patients with microbiologicallyproven Legionella pneumonia and was associated with prolongedlength of ICU stay.
Downloads
Download data is not yet available.
References
Fraser DW, Tsai TR, Orenstein W, Parkin WE, Beecham HJ, Sharrar RG, et al. Legionnaires' disease: description of an epidemic of pneumonia. N Engl J Med. 1977;297(22):1189-97.
Fernandez JA, Lopez P, Orozco D, Merino J. Clinical study of an outbreak of Legionnaire's disease in Alcoy, Southeastern Spain. Eur J Clin Microbiol Infect Dis. 2002;21(10):729-35.
Sonder GJ, van den Hoek JA, Bovee LP, Aanhane FE, Worp J, Du Ry van Beest Holle M, et al. Changes in prevention and outbreak management of Legionnaires disease in the Netherlands between two large outbreaks in 1999 and 2006. Euro Surveill. 2008;13(38).
Kirrage D, Reynolds G, Smith GE, Olowokure B. Investigation of an outbreak of Legionnaires' disease: Hereford, UK 2003. Respir Med. 2007;101(8):1639-44.
Joseph C. New outbreak of legionnaires' disease in the United Kingdom. BMJ. 2002;325(7360):347-8.
From the Centers for Disease Control and Prevention. Update: outbreak of Legionnaires' Disease associated with a cruise ship, 1994. JAMA. 1994;272(12):915.
Monforte R, Cayla J, Sala M, Estruch R, Vidal J, Plasencia A, et al. Community outbreak of Legionnaires' disease in Barcelona. Lancet. 19896;1(8645):1011.
Zumla A, Weyell R, Tettmar RE. Legionnaires' disease: early lessons from 1988 London outbreak. Lancet. 1988;1(8597):1275.
Joseph CA, Ricketts KD. Legionnaires disease in Europe 2007-2008. Euro Surveill. 2010;15(8): 19493.
Stout JE, Yu VL. Legionellosis. N Engl J Med. 1997;337(10):682-7.
Rello J, Bodi M, Mariscal D, Navarro M, Diaz E, Gallego M, et al. Microbiological testing and outcome of patients with severe community-acquired pneumonia. Chest. 2003;123(1):174-80.
Sheu CC, Gong M, Zhai R, Bajwa EK, Gallagher DC, Chen F, et al. Infection-Related Acute Respiratory Distress Syndrome: Epidemiology, Microbiology, Risk and Prognostic Factors. Am J Respir Crit Care Med; 2009. p. A4637.
Bartlett JG, Dowell SF, Mandell LA, File Jr TM, Musher DM, Fine MJ. Practice guidelines for the management of community-acquired pneumonia in adults. Infectious Diseases Society of America. Clin Infect Dis. 2000;31(2):347-82.
Bernard GR, Artigas A, Brigham KL, Carlet J, Falke K, Hudson L, et al. The American-European Consensus Conference on ARDS: Definitions, mechanisms, relevant outcomes, and clinical trial coordination. Am J Respir Crit Care Med.
;149(3 I):818-24.
England AC, 3rd, Fraser DW, Plikaytis BD, Tsai TF, Storch G, Broome CV. Sporadic legionellosis in the United States: the first thousand cases. Ann Intern Med. 1981;94(2):164-70.
Marston BJ, Lipman HB, Breiman RF. Surveillance for Legionnaires' disease. Risk factors for morbidity and mortality. Arch Intern Med. 1994;154(21):2417-22.
Mykietiuk A, Carratala J, Fernandez-Sabe N, Dorca J, Verdaguer R, Manresa F, et al. Clinical outcomes for hospitalized patients with Legionella pneumonia in the antigenuria era: the influence of levofloxacin therapy. Clin Infect Dis. 2005;40(6):794-9.
Fang GD, Fine M, Orloff J, Arisumi D, Yu VL, Kapoor W, et al. New and emerging etiologies for community-acquired pneumonia with implications for therapy. A prospective multicenter study of 359 cases. Medicine (Baltimore).
;69(5):307-16.
Moine P, Vercken JB, Chevret S, Chastang C, Gajdos P. Severe community-acquired pneumonia. Etiology, epidemiology, and prognosis factors. French Study Group for Community-Acquired Pneumonia in the Intensive Care Unit. Chest. 1994;105(5):1487-95.
el-Ebiary M, Sarmiento X, Torres A, Nogue S, Mesalles E, Bodi M, et al. Prognostic factors of severe Legionella pneumonia requiring admission to ICU. Am J Respir Crit Care Med.
;156(5):1467-72.
Benin AL, Benson RF, Besser RE. Trends in legionnaires disease, 1980-1998: declining mortality and new patterns of diagnosis. Clin Infect Dis. 2002;35(9):1039-46.
Ventilation with lower tidal volumes as compared with traditional tidal volumes for acute lung injury and the acute respiratory distress syndrome. The Acute Respiratory Distress Syndrome Network. N Engl J Med. 2000;342(18):1301-8.
Kress JP, Pohlman AS, O'Connor MF, Hall JB. Daily interruption of sedative infusions in critically ill patients undergoing mechanical ventilation. N Engl J Med. 2000;342(20):1471-7.
Ely EW, Bennett PA, Bowton DL, Murphy SM, Florance AM, Haponik EF. Large scale implementation of a respiratory therapist-driven protocol for ventilator weaning. Am J Respir Crit Care Med. 1999;159(2):439-46.
Rivers E, Nguyen B, Havstad S, Ressler J, Muzzin A, Knoblich B, et al. Early goal-directed therapy in the treatment of severe sepsis and septic shock. N Engl J Med. 2001;345(19):1368-77.
Wiedemann HP, Wheeler AP, Bernard GR, Thompson BT, Hayden D, deBoisblanc B, et al. Comparison of two fluid-management strategies in acute lung injury. N Engl J Med. 2006;354(24):2564-75.
Chang CC, Chung CL, Huang CL, Wang FC. Legionnaires' disease in a patient with rheumatoid arthritis. J Microbiol Immunol Infect. 2001;34(1):76-8.
Kakeya H, Ehara N, Fukushima K, Seki M, Izumikawa K, Yamamoto Y, et al. Severe legionnaires' disease successfully treated using a combination of fluoroquinolone, erythromycin, corticosteroid, and sivelestat. Intern Med. 2008;47(8):773-7.
Marques AS, Estrada MH. Legionella pneumonia-a case report. Rev Port Pneumol. 2005;11(2):165-73.
Da Broi U, Pasqualucci A, Savron F. ARDS in a severe case of primary pulmonary infection caused by Legionella pneumophila. Minerva Anestesiol. 1993;59(9):455-8.
Demello D, Kierol-Andrews L, Scalise PJ. Severe sepsis and acute respiratory distress syndrome from community-acquired legionella pneumonia: case report. Am J Crit Care. 2007;16(3): 317-20.
Furugen M, Higa F, Hibiya K, Teruya H, Akamine M, Haranaga S, et al. Legionella pneumophila infection induces programmed cell death, caspase activation, and release of high-mobility group box 1 protein in A549 alveolar epithelial cells: inhibition by methyl prednisolone. Respir Res. 2008;9(1):39.
Gao LY, Abu Kwaik Y. Apoptosis in macrophages and alveolar epithelial cells during early stages of infection by Legionella pneumophila and its role in cytopathogenicity. Infect Immun. 1999;67(2):862-70.
Heath CH, Grove DI, Looke DF. Delay in appropriate therapy of Legionella pneumonia associated with increased mortality. Eur J Clin Microbiol Infect Dis. 1996;15(4):286-90.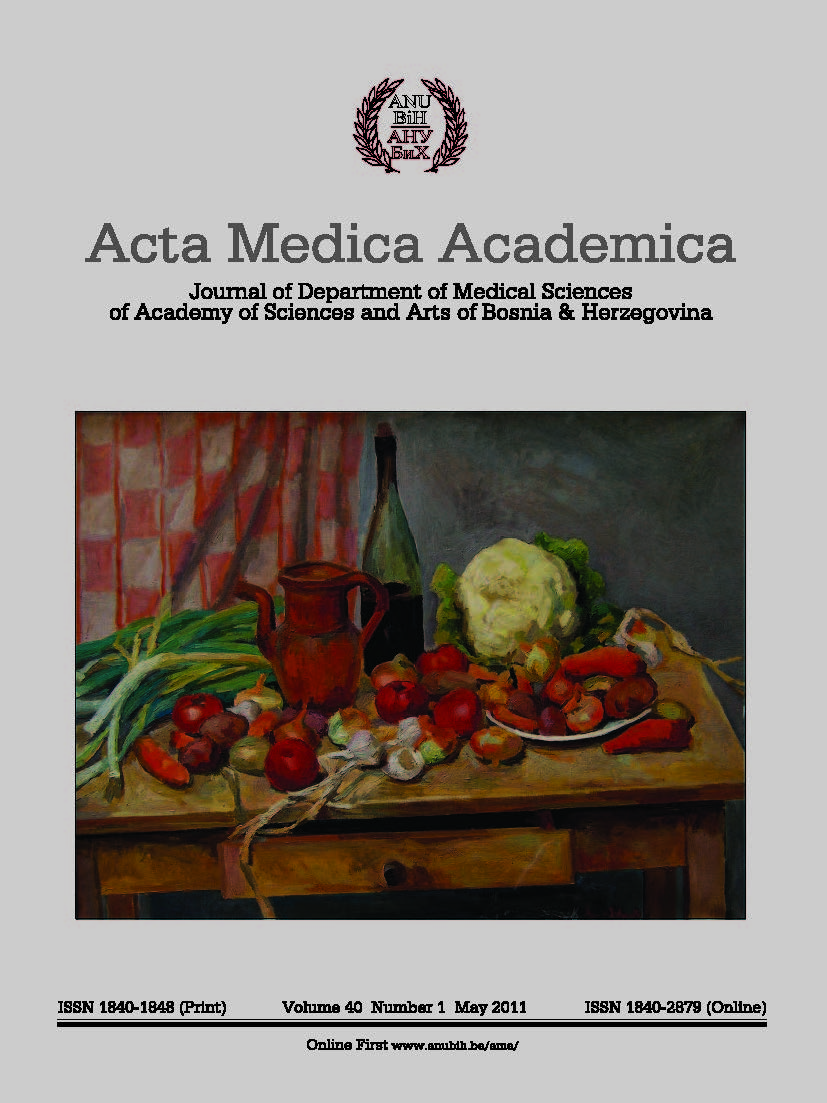 Downloads
How to Cite
Kojicic, M., Li, G., & Gajic, O. (2011). Acute respiratory distress syndrome in patients with Legionella pneumonia. Acta Medica Academica, 40(1), 39–44. Retrieved from https://ama.ba/index.php/ama/article/view/101