Senka Mesihović-Dinarević, MD, PhD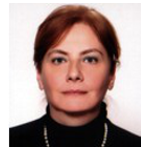 Academy of Sciences and Arts of Bosnia and Herzegovina, Sarajevo, Bosnia and Herzegovina
Senka Mesihović-Dinarević was born in 1958 in Sarajevo where she graduated Medicine in 1982.
Since 1982 she has been working at Pediatric Hospital in Sarajevo, where she still works as a pediatric cardiologist. She specialized in pediatrics in 1988, and the pediatric cardiology subspecialization was performed in Sarajevo, Belgrade and London. She received PhD degree in Sarajevo in 1991 at Medical Faculty of University of Sarajevo.
She was elected Professor of Pediatrics at Medical Faculty, University of Sarajevo in 2006. In 1994 became an Ordinary member of the Association of European Pediatric Cardiologists (AEPC), and in 1995 member of the British Association of Pediatrics Cardiologists (BPCA). During 1995/96 she lectured pediatric echocardiography at Postgraduate school of cardiology at Royal Brompton Hospital in London. Since 1995 she has been a lecturer of pediatric cardiology at Postgraduate courses in London-Membership Royal College of Physicians (MRCP). In 2003 she was appointed Director of Pediatric Clinic of Clinical Centre University of Sarajevo, and same year Head of the Chair of Pediatrics, Medical Faculty of University of Sarajevo, and President of the Pediatric Educational Centre in Sarajevo (PECS). Director of the Discipline for Child's health: Pediatric clinic and Clinic for children surgery of Clinical Centre University of Sarajevo since 2011. She is a Consultant pediatric cardiologist at the Royal College of Pediatrics and Child Health (RCPCH) in England since 1997. Since 1998 she is President of the Pediatric cardiology section of BIH.
She has published over 353 papers in domestic and foreign medical journals. She has been cited over 220 times at the ICI Web of Science - ISI Web of Knowledge.