Semir Vranić, M.D., Ph.D.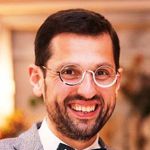 College of Medicine, Qatar University, Doha, Qatar
Dr. Vranic graduated from the University of Sarajevo School of Medicine in 2004. Completed residency program in pathology in 2011 and obtained PhD in pathology in 2012 at the Zagreb University School of Medicine.
Worked as a consultant pathologist at the Department of Pathology, Clinical Center of the University of Sarajevo from 2012-2017. Joined the College of Medicine, Qatar University in September 2017. Did two post-doc fellowships (2008/2009 at the Creighton University School of Medicine, Omaha, Nebraska, USA; 2012/2013, Department of Medical Sciences, University of Turin, Italy). Additional training programs in breast pathology were completed at Nottingham City Hospital (UK) in 2008 and at Guy's and St. Thomas' NHS Foundation Trust/King's College London (2012).
Was awarded as UICC Lifetime Fellow in 2010 and "The rising stars in pathology" by the Pathologist in 2016.
Has been actively involved in breast cancer, genitourinary and gynecologic cancer research as well as novel predictive biomarkers for precision medicine purposes (>100 peer-reviewed publications).
Published one book (Review of Gynecologic and Breast Pathology, 2017), two chapters on apocrine breast carcinoma for the Encyclopedia of Pathology (Springer 2018 and 2020) and WHO Breast Tumours (IARC 2020) and one chapter on IHC role in precision medicine (Precision Medicine in Cancer Therapy, Cancer Treatment and Research 178, Springer 2019).
Active in many professional and academic associations related to pathology and academic/scientific publishing (USCAP, European Society of Pathology, UICC, COPE, WAME, CSE). Actively involved in pathology education through establishment of the Bryan Warren School of Pathology (since 2007 annually) in collaboration with the British Division of the International Academy of Pathology (BDIAP) and Bosnian Turkish School of Cytopathology (since 2016 annually) in collaboration with the Turkish Division of IAP (TDIAP). Served as a president of national association of pathologists in Federation of Bosnia and Herzegovina (2015-2017).
Has been section editor and editor-in-chief of Bosnian Journal of Basic Medical Sciences (since 2014), academic editor for PLOS One (since 2018) and associate editor for Cancer Cell International (since 2019). Has been serving as a peer-reviewer for >80 academic biomedical journals.