Nerma Tanović, graduate professor of English Language and Literature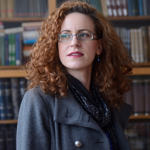 Academy of Sciences and Arts of Bosnia and Herzegovina, Sarajevo, Bosnia and Herzegovina
amabih@anubih.ba; amaanubih@hotmail.com

Nerma Tanović was born in Sarajevo, Bosnia and Herzegovina on March 24, 1986. She graduated in 2009 from Department of English Language and Literature at Faculty of Philosophy, University of Sarajevo. In 2012 she enrolled Master study program in European Integrations at Faculty of Political Sciences, University of Sarajevo.
Since December 2009 she has been working at the Academy of Sciences and Arts of Bosnia and Herzegovina (ANUBiH) as an Expert Assistant for International/Interacademy Cooperation, and Expert Assistant for the Department of Medical Sciences of ANUBiH.
She is also a Coordinator of the Support Service for the Centers and Departments of ANUBiH.
In 2010 she became a member of the Editorial Team of the journal Acta Medica Academica, as an Editorial Assistant. Together with Editors-in-Chief and other members of Editorial Board and Editorial Team, she participated in the development of the journal Acta Medica Academica to its quality, affirmation, and getting new indexations.