Muzafer Mujić, MD, PhD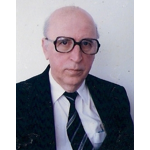 University of Sarajevo, Sarajevo, Bosnia and Herzegovina
Muzafer Mujić is a Professor Emeritus at the University of Sarajevo. Soon after graduating in 1960 followed by a relatively short period of clinical internship and clinical practice, he started his academic career at the Institute for Physiology and Biochemistry, Medical Faculty, University of Sarajevo, where he obtained PhD (1972), and professorship (1978).
His early research interests included basic research in classification of sympathomimetic drugs and comparative pharmacodynamics of imidazolines published in widely recognised international journals. Other research interests included blood viscosity, neurophysiology, cardiovascular aspects of PTSD, and occupational physiology and assessment of occupational capability.
During his career, Prof. Mujić held important academic positions, including Vice Dean of Pharmaceutical Faculty - University of Sarajevo (1980 to 1984) and Head of the Institute for Physiology and Biochemistry, Medical Faculty - University of Sarajevo (1993-1998). During this time he encouraged and enabled many young scientists to travel abroad to the recognised world scientific centres for further specialisation in their particular fields of interest. He also supervised and guided many young scientists whilst obtaining their Master Degrees and PhDs.
Prof. Mujić had also been active in Red Cross in the country and internationally.
As a founder and President of the Association of Basic Medical Sciences of Bosnia and Herzegovina, he initiated founding of ''Bosnian Journal of Basic Medical Sciences'' where he held positions of the president of editorial board and Chief Editor for many years. Very soon, the journal managed to ensure soon its reputation for quality within the country, wider region and internationally.