Muris Čičić, PhD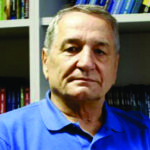 Academy of Sciences and Arts of Bosnia and Herzegovina, Sarajevo, Bosnia and Herzegovina
Professor Čičić is a full member of the Academy of Sciences and Arts of Bosnia and Herzegovina and its President since 2021.
He graduated from the Faculty of Economics, University of Sarajevo in 1973. In 1997 he was elected full time professor for Marketing Management at the School of Economics and Business, University of Sarajevo.
From 2004 until 2008 he served as the Dean of the Faculty. Professor Čičić was a scientific researcher and consultant in the Institute for Organization and Economics Sarajevo from 1973 until 1988. Between 1988 and 1990 he was Department Head and the Director of UPI Institute Sarajevo.
Professor Čičić was a Visiting Fulbright Professor at Virginia Polytechnic Institute and State University, USA 1990 – 1991, and a Senior Lecturer and the Head of Department of Marketing at the University of Wollongong, Australia from 1991 until 1997. In the period 1997–1998 academician Čičić was advisor to the Minister of Foreign Trade and Economic Development of Bosnia Herzegovina and Project Manager for Business Consulting for USAID, Sarajevo. In 2001 he was the Chairman of Sarajevo Stock Exchange and president of Economic Council of the Government of Bosnia-Herzegovina from 2003 until 2006.
In 2008 professor Čičić was elected corresponding member and in 2012 full member of ANUBiH.