Ljerka Ostojić, MD, PhD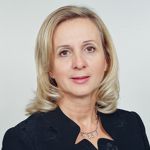 Faculty of Medicine of the Mostar University, Mostar, Bosnia and Herzegovina
Prof. Ljerka Ostojić was born in Mostar in 1956. She is a graduate of the Faculty of Medicine of University of Sarajevo. She obtained M.Sc. from Zagreb University in 1984 and D.Sc. from Banja Luka University.
She held the position of Vice-dean for finances of Banja Luka Faculty of Medicine at the age of 33.
She is one of the founders of Faculty of Medicine of the Mostar University and held the position of the Dean of the same Faculty for two terms before being elected the Rector of the Mostar University in 2013. Prof. Ostojić is a corresponding member of the Academy of Sciences and Arts of Bosnia and Herzegovina and is a recognized educator and scientist.
She has authored and co-authored books, scientific articles in the field of Human Anatomy, Physical Medicine and Rehabilitation.
Under her mentorship 5 doctoral dissertations were completed and her role in educating young medical scientists in Bosnia and Herzegovina is immense. Prof. Ljerka Ostojić is also the president of the Matrix Croatica Mostar.