Livia Puljak, MD, PhD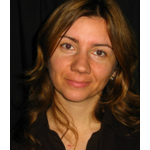 University of Split School of Medicine, Split, Croatia
livia@mefst.hr

Prof. Puljak is an Associate Professor at the University of Split School of Medicine, where she obtained her MD (2002) and PhD (2008) degrees.
She did a 3-year research fellowship at University of Colorado Health Sciences Center, Denver, Colorado and University of Texas Southwestern Medical Center, Dallas, Texas. She founded Croatian branch of The Cochrane Collaboration in 2008. Her research interests are pain and evidence-based medicine. She published a number of peer-reviewed manuscripts, mentored numerous young researchers.
Significant amount of her free time is devoted to popularization of science as a member of the organizing committee of the Festival of Science at University of Split and knowledge broker of the Croatian Cochrane Branch. Prof. Puljak also translated book Testing Treatments into Croatian language.