Ivan Damjanov, MD, PhD, Dr. h. c.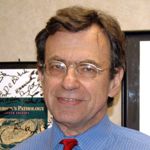 University of Kansas School of Medicine, Kansas City, Kansas, United States
Ivan Damjanov, M.D., Ph.D., Dr. h. c., is Emeritus Professor of Pathology at the University of Kansas School of Medicine, Kansas City, Kansas.
Dr. Damjanov graduated from the Medical School, University of Zagreb, Zagreb, Croatia in 1964, where he also started his initial postgraduate training in Pathology and received a Ph.D. in Developmental Biology in 1971. Upon immigration to the United States he served on the teaching staff of several Medical Schools, including The University of Connecticut, Hahnemann Medical College and Thomas Jefferson University in Philadelphia.
In 1994 he joined the Department of Pathology at the University of Kansas and served as Chairman of the Department till 1997, as well as an attending physician thereafter. He retired in 2018 and moved to the suburbs of Philadelphia. Dr. Damjanov's scientific work concentrated primarily on experimental germ cell tumors and embryonic stem cells. Clinically he was most interested in tumor markers and urogenital and gastrointestinal pathology.
Dr. Damjanov has authored over 350 biomedical papers in peer-reviewed journals and has also written numerous review articles, editorials and book reviews. He served during the 1985-1995 period as a reviewer for several Study Sections of the National Institutes of Health, Bethesda, MD, and the VA Administration, and as a consultant for several universities and scientific institutions. He has published and/or edited more than 30 medical books and textbooks, some of which were translated into several foreign languages. Most notably he served as Editor of the 10th Edition of Anderson's Pathology (Mosby, St Louis), and his book Pathology for Health Professions (Elsevier, St.Louis) has reached its sixth edition over a 25-year period. He served on the editorial board of several biomedical journals including Human Pathology, Virchows Archiv, Modern Pathology, Pathology Research and Practice, In vitro and International Journal of Developmental Biology. Furthermore, he served for 12 years as the Associate Editor of the official USCAP journal Laboratory Investigation, and for 10 years as the North American Editor of the journal Differentiation.
He is a corresponding member of the Croatian Academy of Sciences and Arts, and the Vojvodina Academy of Arts and Sciences.
He received a honorary degree from the University of Novi Sad, Serbia and another one from the Charles University, Prague, Czech Republic.
For his teaching activities he has received numerous awards including the Tom Kent Award from the US Group for Research in Pathology Education (GRIPE).
He has been married since 1964 to Andrea Damjanov and he has 3 daughters.