Ognjen Gajić, MD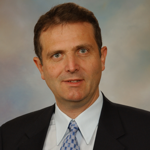 Mayo Clinic, Rochester, MN, United States
Dr Gajic practices and teaches critical care medicine at Mayo Clinic in Rochester, Minnesota where he is a Professor of Medicine.
Dr Gajic has published more than 150 peer-reviewed articles and book chapters related to critical care medicine and serves on the Editorial Board of the American Journal of Respiratory and Critical Care Medicine.
He directs an interdisciplinary clinical laboratory, METRIC (Multidisciplinary Epidemiology and Translational Research in Intensive Care http://mayoresearch.mayo.edu/mayo/research/gajic_lab/) with a goal for understanding disease mechanisms and the response of the human body to acute illness of injury and corresponding life support interventions.
Dr Gajic's main research interest is centered around the epidemiology, pathophysiology and management of acute respiratory distress syndrome (ARDS) and multiorgan dysfunction (MODS) with particular focus on health care delivery, simulation modeling and informatics.
Dr Gajic is member of the steering committee of the US Critical Illness and Injury Trials Network and he chairs the Prevention of Organ Failure (USCIIT-PROOF) Study group.