Enver Zerem, MD, PhD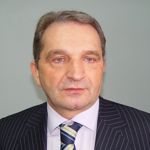 University Clinical Center Tuzla, Tuzla, Bosnia and Herzegovina
He received his medical degree from the University of Belgrade, Belgrade, Serbia (1977) and became Specialist of Internal Medicine (1983) and Gastroenterology (1988). He received his Master of Science degree (1992) and his PhD degree (1994) in gastroenterology from the University of Tuzla, Tuzla, Bosnia and Herzegovina.
Dr Zerem is currently professor of Internal Medicine and coordinator of doctoral study at the University of Tuzla School of Medicine and director for research and education at the University Clinical Center Tuzla.
His research interests focus on the diagnosis and treatment of acute pancreatitis, the application of interventional ultrasound in gastroenterology and hepatology, acid-related disorders, viral hepatitis and research education and academic training of gastroenterologists and ultrasonographists.
Dr Zerem has published extensively and has authored more than 100 manuscripts, reviews and book chapters. His papers in interventional ultrasound and pancreatology are widely cited. He is a peer-reviewer for quite a few international medical journals, as well as other medical and governmental agencies. He is an editorial board member for the international medical journals Pancreatic disorders and therapy and Gastroenterology and Hepatology Research, and domestic medical journals Acta Medica Academica, Acta Medica Saliniana, Paediatrics Today and Scripta Medica.