Pneumomediastinum: Experience with 87 Patients
Keywords:
Pneumomediastinum, Spontaneous vs Secondary, Classification, Treatment, Outcomes
Abstract
Objective. The aim of the present series was first to present our experience in the management of 37 patients with spontaneous pneumomediastinum (SPM), and further to indicate the necessity of identifying true SPM cases as they are currently inadequately defined.
Methods. This is a single-center, retrospective study, conducted in a university hospital. Consecutive adult patients with pneumomediastinum (PM) between January 2009 and March 2020 were involved in the series. The data about age, gender, symptoms, signs, treatment, length of hospital stay (LOS), and in-hospital mortality were evaluated.
Results. In total, 87 cases with pneumomediastinum (37 with spontaneous and 50 with secondary PM) were analyzed. Patients in both groups were of similar ages (P=0.4). Sufferers with secondary PM were more likely to have: an associated pneumothorax (19% vs 58%, P<0.05), a chest tube placed (18.9% vs 58%, P<0.05), an associated pleural effusion (0% vs 18%, P<0.05). They presented with a longer LOS (3.9 vs 5.3 days, P<0.05), and were more likely to die (0% vs 10%, P<0.05). Additionally they showed a higher prevalence of radiologic subcutaneous emphysema (49% vs 74%, P<0.05).
Conclusion. Spontaneous pneumomediastinum is an onset of clinical importance with a low mortality rate, short LOS and good longterm prognosis. It often presents with chest pain, dyspnea and/or subcutaneous emphysema. However, secondary causes of mediastinal air must be ruled out, due to their potential devastating outcome if not diagnosed promptly. A consensus aimed at an update of the classification guidelines is more than indispensable.
Downloads
Download data is not yet available.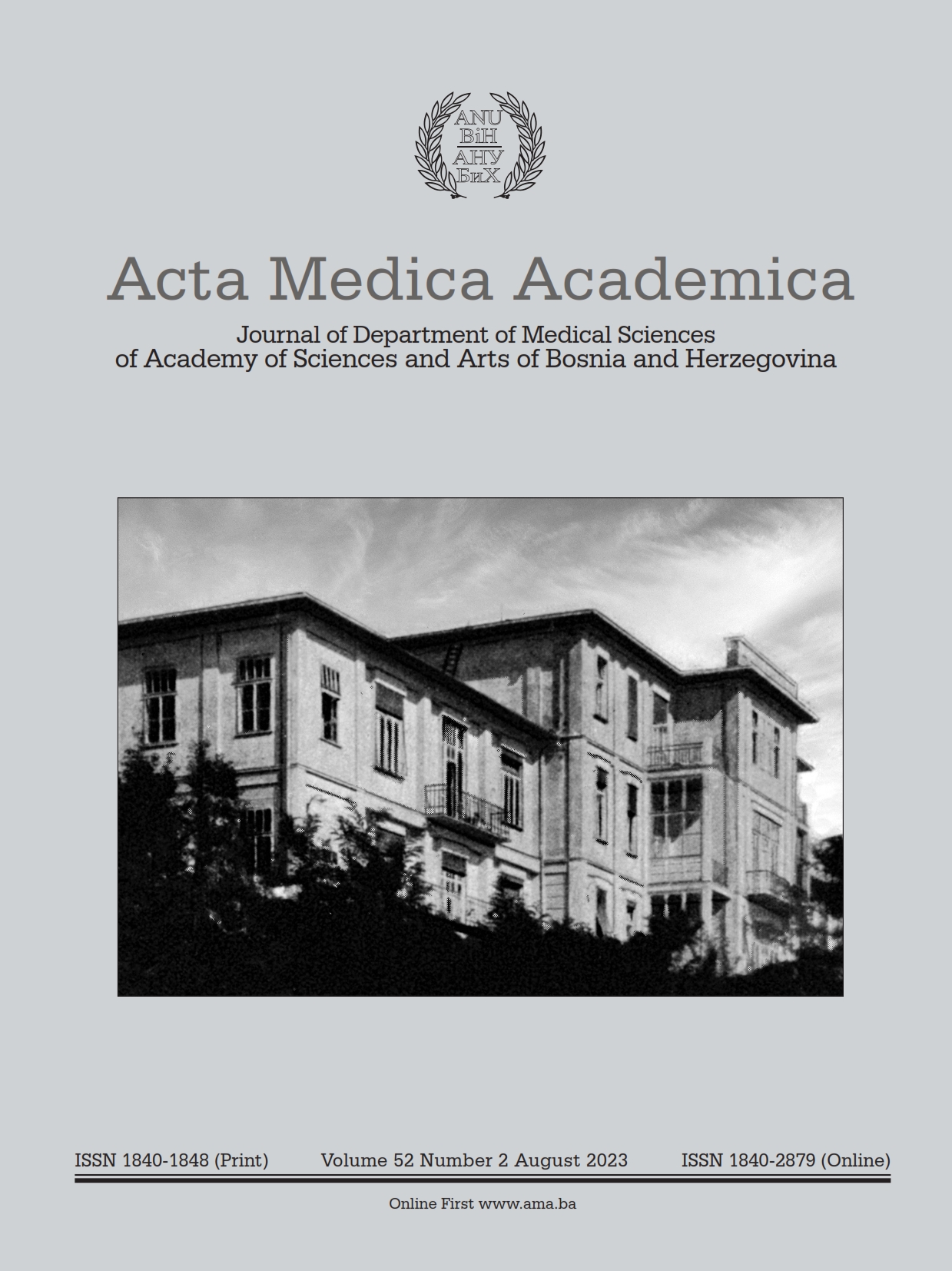 Downloads
How to Cite
Magouliotis, D. E. ., Sgantzou, I. ., Salemis, N. S. ., Rountas, C. ., Samara, A. ., Zotos, P.-A. ., Athanasiou, T. ., & Spiliopoulos, . K. . (2023). Pneumomediastinum: Experience with 87 Patients. Acta Medica Academica, 52(2), 88–94. https://doi.org/10.5644/ama2006-124.408
Section
Clinical Medicine
License
Copyright (c) 2023 Acta Medica Academica
This work is licensed under a Creative Commons Attribution-NonCommercial 4.0 International License.