mcr Genes Conferring Colistin Resistance in Enterobacterales; a Five Year Overview
Keywords:
Colistin, Resistance, mcr Genes, Enterobacterales
Abstract
The present review aims to study and detect the global emergence of mcr genes in E. coli, K. pneumoniae and Salmonella spp., isolates from human specimens over the last six years. Nowadays the rise of multidrug-resistant superbugs has made essential the return of drugs that were previously abandoned. A clear example is colistin, which acts against multidrug - resistant gram - negative pathogens, including Enterobacterales. Colistin resistance is an unfortunate fact, with the emergence of mcr genes conferring resistance to colistin in Enterobacterales posing the most recent threat. Literature about mcr genes and their spread in E. coli, K. pneumoniae and Salmonella spp. is cited, focusing on the emergence of mcr genes in human specimens since 2015. The data were taken from the PubMed and Scopus databases. It seems that the mcr-1 gene continues to be the protagonist among the three species. E. coli is the dominant species harbouring mcr genes. Moreover, plasmid - mediated colistin resistance is also conferred upon other species that carry different genes resistant to antibiotics. There are only scarse reports on human Salmonella spp isolates harbouring mcr genes. Finally, the emergence of the mcr-9 gene in all of them is quite remarkable.
Conclusion. Plasmid - mediated colistin resistance in Enterobacterales is a global issue and has been worsening over the years. The continuous mutations of mcr gene subtypes underline the need for better surveillance, constant investigation and wise use of colistin, especially in countries with high levels of antibiotic resistance.
Downloads
Download data is not yet available.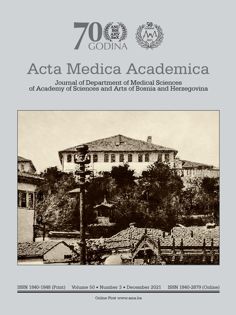 Downloads
How to Cite
Chatzidimitriou, M., Kavvada, A., Kavvadas, D., Kyriazidi, M. A., Meletis, G., Chatzopoulou, F., & Chatzidimitriou, D. (2022). mcr Genes Conferring Colistin Resistance in Enterobacterales; a Five Year Overview. Acta Medica Academica, 50(3), 365–371. https://doi.org/10.5644/ama2006-124.355
Section
Clinical Medicine