Continuous Dynamic Mapping of the Corticospinal Tract in Motor Eloquent Tumor Surgery: Our Experience and Evaluation of the Method
Keywords:
Subcortical Mapping, Corticospinal Tract, Tumor Surgery, Motor Evoked Potential, Intraoperative Monitoring
Abstract
Objective. The aim of this article is to present our experience with continuous dynamic mapping (CDM) of the corticospinal tract (CST) when removing tumors in motor eloquent regions.
Methods. We studied 44 patients with a brain tumor adjacent to the CST where CDM was used. The mapping probe was integrated at the tip of the suction device. Thresholds for eliciting MEPs were recorded. In all patients, along with CDM, MEPs to direct cortical stimulation were also monitored throughout the operation. Motor function was assessed preoperatively, after the procedure and on discharge.
Results. In the series, there were 37 patients with gliomas, six with brain metastasis, and one with cavernoma. The threshold to elicit MEPs in CDM was >20 mA in 17 cases, 16–20 mA in six cases, 11–15 mA in six cases, 6–10 mA in nine cases and 2–5 mA in six cases. MEPs to direct cortical stimulation were preserved in all patients. In three cases a new temporary motor deficit was noted. No new permanent motor deficit occurred. Gross total resection was reached in 57% of cases.
Conclusions. From our experience, the combined use of CDM and MEPs to direct cortical stimulation improves the safety of surgery in the proximity of the CST, and at the same time offers the possibility of higher rates of gross total resection.
Downloads
Download data is not yet available.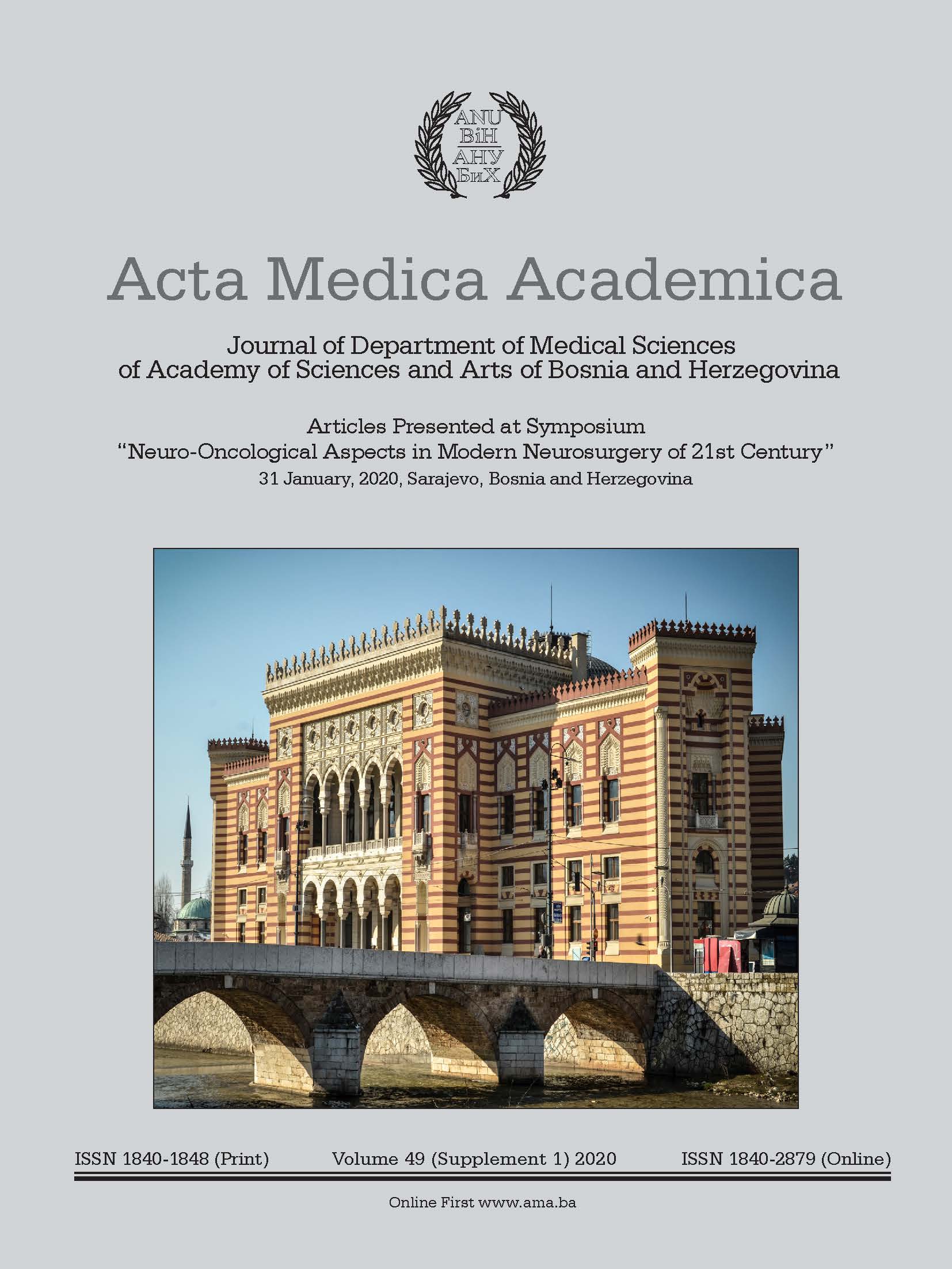 Downloads
How to Cite
Porčnik, A., Pešak, J., Žele, T., Koritnik, B., Rodi, Z., & Prestor, B. (2021). Continuous Dynamic Mapping of the Corticospinal Tract in Motor Eloquent Tumor Surgery: Our Experience and Evaluation of the Method. Acta Medica Academica, 49(1, 2, 3), 63–69. https://doi.org/10.5644/ama2006-124.308
Section
Clinical Medicine