Use of computer assisted orthopedic surgery in pelvic and acetabular trauma
Keywords:
Pelvis, Fractures, Osteosynthesis, Computer navigation
Abstract
Computer assisted orthopedic surgery (CAOS) is a recent concept inorthopedics. Its use in orthopedic trauma is becoming more popular.Pelvic and acetabular trauma is one of the applications where CAOScan play an important role to facilitate the surgery. In this review article,we provide an overview of the structure of CAOS with specialemphasis on its role in pelvic and acetabular trauma. Th e use of CAOShas many advantages in the fi eld of orthopedic trauma, however, manyobstacles are still present that prevent its wide use.
Downloads
Download data is not yet available.
References
Biasca N, Schneider TO, Bungartz M. Minimally invasive computer-navigated total knee arthroplasty. Orthop Clin North Am. 2009;40(4):537-63.
Dattani R, Patnaik S, Kantak A, Tselentakis G. Navigation knee replacement. Int Orthop. 2009;33(1):7-10.
Krackow KA, Phillips MJ, Bayers-Th ering M, Serpe L, Mihalko WM. Computer-assisted total knee arthroplasty: navigation in TKA. Orthopedics. 2003;26(10):1017-23.
Beckmann J, Stengel D, Tingart M, Götz J, Grifk a J, Lüring C. Navigated cup implantation in hip arthroplasty. Acta Orthop. 2009;80(5):538-44.
Lützner J, Krummenauer F, Wolf C, Günther KP, Kirschner S. Computer-assisted and conventional total knee replacement: a comparative, prospective, randomised study with radiological and CT evaluation. J Bone Joint Surg Br. 2008;90(8):1039-44.
Pitto RP, Mueller LA, Reilly K, Schmidt R, Munro J. Quantitative computer-assisted osteodensitometry in total hip arthroplasty. Int Orthop. 2007;31(4):431-8.
Kalteis T, Handel M, Herold T, Perlick L, Baethis H, Grifk a J. Greater accuracy in positioning of the acetabular cup by using an image-free navigation system. Int Orthop. 2005;29(5):272-6.
Ishikawa Y, Kanemura T, Yoshida G, Ito Z, Muramoto A, Ohno S. Clinical accuracy of three-dimensional fl uoroscopy-based computer-assisted cervical pedicle screw placement: a retrospective comparative study of conventional versus computer-assisted cervical pedicle screw placement. J
Neurosurg Spine. 2010;13(5):606-11.
Schlenzka D, Laine T, Lund T. Computer-assisted spine surgery. Eur Spine J. 2000;9(Suppl 1):S57-64.
Kahler DM. Navigated long-bone fracture reduction. J Bone Joint Surg Am. 2009;91(Suppl 1):102-7.
Chao EYS, chair. NIH/AAOS research symposia: new engineering technology transfer in orthopaedics; 1998 Apr 30 – May 3; Baltimore, Maryland, USA. 12. Kanlić EM, Delarosa F, Pirela-Cruz M. Computer assisted orthopaedic surgery -- CAOS. Bosn J Basic Med Sci. 2006;6(1):7-13.
Atesok K, Schemitsch EH. Computer-assisted trauma surgery. J Am Acad Orthop Surg. 2010;18(5):247-58.
Stöckle U, Schaser K, König B. Image guidance in pelvic and acetabular surgery--expectations, success and limitations. Injury. 2007;38(4):450-62.
Kendoff D, Ortega G, Citak M, Citak M, Hüfner T, Krettek C, Olivier LC. Limitations and pitfalls of 3-D fl uoroscopic navigation in orthopaedic trauma surgery. Technol Health Care. 2009;17(2):133-40.
Barrick EF, O'Mara JW, Lane HE 3rd. Iliosacral screw insertion using computer-assisted CT image guidance: a laboratory study. Comput Aided Surg. 1998;3(6):289-96.
Hüfner T, Gebhard F, Grützner PA, Messmer P, Stöckle U, Krettek C. Which navigation when? Injury. 2004;35(Suppl 1):S-A30-4.
Rosenberger RE, Dolati B, Larndorfer R, Blauth M, Krappinger D, Bale RJ. Accuracy of minimally invasive navigated acetabular and iliosacral fracture stabilization using a targeting and noninvasive registration device. Arch Orthop Trauma
Surg. 2010;130(2):223-30.
Arand M, Kinzl L, Gebhard F. Computer-guidance in percutaneous screw stabilization of the iliosacral joint. Clin Orthop Relat Res. 2004;(422):201-7.
Matta J, Saucedo T. Internal fi xation of pelvic ring fractures. Clin Orthop. 1989;242:83-97.
Parker PJ, Copeland C. Percutaneous fl uoroscopic screw fi xation of acetabular fractures. Injury. 1997;28(9-10):597-600.
Routt Jr ML, Kregor PJ, Simonian PT, Mayo KA. Early results of percutaneous ilisacral screws placed with the patient in the supine position. J Orthop Trauma. 1995;9(3):207-14.
Schep NW, Haverlag R, van Vugt AB. Computer assisted versus conventional surgery for insertion of 96 cannulated iliosacral screws in patients with postpartum pelvic pain. J Trauma. 2004;57(6):1299-302.
Tonetti J, Carrat L, Blendea S, Merloz P, Troccaz J, Lavallée S, et al. Clinical results of percutaneous pelvic surgery. Computer assisted surgery using ultrasound compared to standard fl uoroscopy. Comput Aided Surg. 2001;6(4):204-11.
Mosheiff R, Khoury A, Weil Y, Liebergall M. First generation computerized fl uoroscopic navigation in percutaneous pelvic surgery. J Orthop Trauma. 2004;18:106-11.
Routt ML Jr, Nork SE, Mills WJ. Percutaneous fixation of pelvic ring disruptions. Clin Orthop Relat Res. 2000;(375):15-29.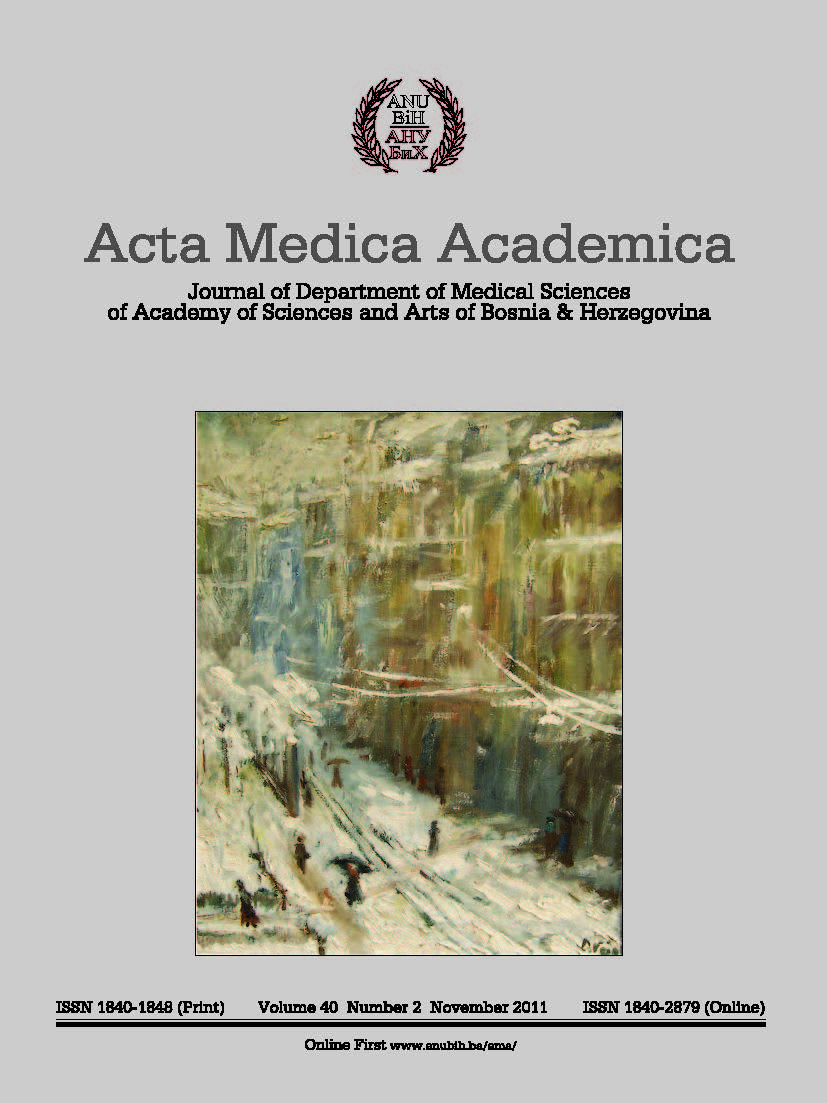 Downloads
How to Cite
Abdelgawad, A., Akins, R., & Kanlic, E. M. (2011). Use of computer assisted orthopedic surgery in pelvic and acetabular trauma. Acta Medica Academica, 40(2), 166–173. Retrieved from https://ama.ba/index.php/ama/article/view/116