Adnan Čustović, DM, MD, PhD, FRCP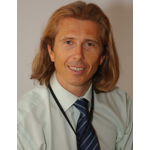 University of Manchester, Manchester; University Hospital of South Manchester, Manchester, United Kingdom
adnan.custovic@manchester.ac.uk
Adnan Custovic is a Professor of Allergy and a Centre Lead for Respiratory Medicine in the Institute of Inflammation and Repair at the University of Manchester.
He is a Training Programme Director for Allergy in the North Western Deanery and an Honorary Consultant Allergist at the University Hospital of South Manchester. His academic work focuses principally on the gene and environment interactions in the development of allergic diseases and primary prevention of asthma and allergies. Professor Custovic has authored or co-authored more than 200 original articles in the major medical journals, and has contributed with numerous review articles and chapters to a number of major textbooks.
He has given more than 150 invited lectures at the major national and international congresses.
At national level Professor Custovic served as a Secretary of the British Society of Allergy and Clinical Immunology (2009-2012). At an international level, he serves as a Chairman of the Asthma Section of the European Academy of Allergy and Clinical Immunology (EAACI) and is a member of the Executive Committee of EAACI. Professor Custovic is a member of the ARIA Guidelines and a member of the World Allergy Organisation Special Committee on the Impact of Climate Change on Allergy. He is an Associate Editor of Thorax and a member of the Editorial board of several major international specialty journals.